Don't let the name fool you, the Blueboys are anything but sad, they're actually infectiously happy and undeniably cute.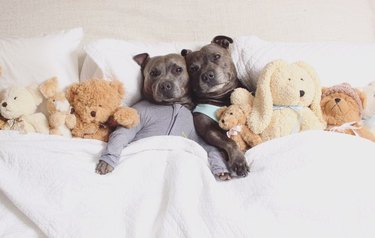 Darren, 6, and Phillip, 5, aka Dazzy and Philly, are Staffordshire Bull Terriers from Brisbane, Australia who have a massive social media presence with more than 270,000 followers on Instagram and more than 100,000 likes on Facebook.
"I purely started a page on Instagram as a vice for all my 'crazy dog lady' photos. It was so funny because the very first time I uploaded a photo of the boys and hash tagged #Staffy, I had all these people just come out of nowhere liking my photos. It was then I realized upon looking through the #staffy tag myself that I wasn't alone in being obsessed with my staffs," owner Jennifer Hall told Cuteness.
Their posts are written from the boys' perspective, with a little help from Jennifer and husband, Lachlan Hall.
"Dazzy is hyper and needy, and Philly is more reclusive and independent. Dazzy is incredibly fit, and philly hates exercise so much. Dazzy loves cuddles, and Philly only ever wants his next meal. So to be able to get their personalities across better and for people to connect with them as individuals, I thought it would be much easier to do if I took my voice out of it altogether," Jennifer said.
Since they began sharing videos and photos of their boys, they've been advocates for the breed and found that they've helped dispel the negative stereotypes.
"We have lots of fans that say that all their life they believed our breed was a vicious one, until they found our boys, and that is what inspires me to keep doing what we do every day," Jennifer said.
Because of their increasing popularity and viral photos of them wearing baby clothes, Jennifer and Lachlan developed a clothing line named Darren and Phillip with 20 percent of the proceeds going to animal rescues. They also sell a calendar (obviously) and through their sales raised $25,000 for local pit bull and staffy rescues.
"Our main inspiration behind all of our content is to purely make people giggle and represent our breed in a positive light in the process," Jennifer told Cuteness.