Joey the Squirrel is national hero — or at least he should be. When a burglar broke into Joey's owner's house, he went on the offensive to protect the family home. Praise hands all around for Joey!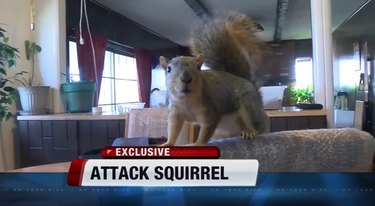 Adam Pearl (aka Joey's human) realized something was up as soon as he got home after break-in.
"I came in the front door and I saw snow prints out in the front driveway going to the back of the house, so I thought something was awry because no one usually goes through the yard," Pearl told KIVI TV.
Pearl investigated and noticed that there were scratches — indicating an attempted break-in — around his gun safe. Naturally, Pearl's next move was to call the police. When the officer, Ashley Turner, arrived, she was surprised to meet Joey and even asked if he would bite.
"I said, well, he usually doesn't bite, but you never know cause he is a squirrel," Pearl told KIVI.
Turns out, that was the key piece of information in solving the case. Later, Turner came back with the most incredible news.
"She said while she was questioning the individual he had scratches on his hands so she asked him 'did you get that from the squirrel' and he says 'yeah, damn thing kept attacking me and wouldn't stop until I left,'" Pearl explained.
Who knew guard squirrels were a thing, right?
"Nobody can believe it because who can say they have a squirrel that guards their house, which is crazy," said Pearl. "You can't ask for much more than that. He is a pain in the butt, but he is great."
Never again will anyone question Pearl's decision to have a pet squirrel.