It's always great to come home to a huge smile and someone who loves you. For Kathleen and her husband Steve, this would be their loving dog Rocky, who Kathleen first met when she was volunteering at Animal Rescue League Shelter & Wildlife Center in Pittsburgh.
Kathleen had been doing her regular rounds, walking dogs before she had to go to work. The last dog she was scheduled to walk that day was Rocky, then named Clancy, and it was love at first sight.
"I went to his kennel and saw his big smile… I took him out instantly. I walked him around the designated area and before I took him back, he started being cute playing with some weeds along a patch of Western Avenue, so I took some pictures to send to the volunteer manager to update his adoption page," Kathleen posted to Facebook. She also sent Steve the photos, and Steve loved the puppy right-away and wanted to meet!
However, Clancy was being sent to an adoption event all the way across town. Steve went immediately, but the couple knew there was a chance he would be adopted already.
"I said that if he got there and he was already gone, I would be sad but happy that he found a home," Kathleen wrote. "Around 11 a.m., Steve called me and said, "We have a puppy." I left work immediately."
Nowadays, Rocky enjoys living with his family, smiling, snuggling, playing with his toys, and smiling at them everyday.
"Rocky is the happiest dog ever. Not only does he look like he is smiling naturally, but when we come home after work, he literally smiles! He's just so happy to see us come home," according to Kathleen.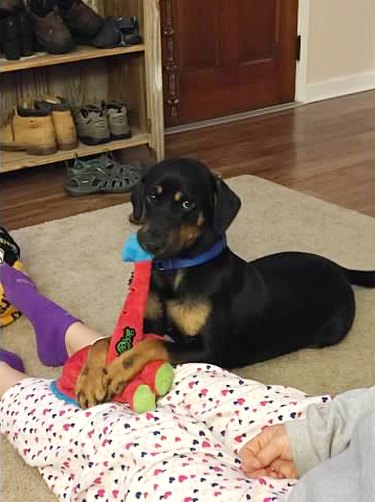 It's true that rescue dogs have so much love to share. Rocky loves being petted and especially being the center of attention. "He has to have all the attention all the time!" Kathleen says. "Which is fine since he is an only child (for now). He will sit next to us and grab our arms and hands and pull them towards him to get more attention. "
One of Rocky's favorite things is to snuggle. "When he is tired, he will snuggle right next to us on a blanket… he also snores!" says Kathleen. "He likes sleeping between us in our bed, snuggled between both of us."
"Rocky loves EVERYONE!" Kathleen posted. "He never meets a stranger, whether it is human or dog. He loves going to the dog park and meeting everyone there."
If you're looking for your own Rocky, you can check out the available pets at ARLSHC if you're a Pittsburgh local. Not from Pittsburgh? Plenty of loving dogs, cats and more are sure to be at a shelter near you just waiting for their forever home. Visit adoptapet.com or petfinder.com to check out the resources they have!