The baby squirrel will need about 11 weeks of care before he can be released back into the wild.
Jill Argal, Animal Rescue League Shelter & Wildlife Center's Director, told Cuteness about the Center's mission and the care and keeping of baby squirrels.
The Wildlife Center is a fully licensed wildlife rehabilitation clinic. Argall said that they "specialize in the care and treatment of injured, orphaned, and ill native Pennsylvanian wildlife. All animals are admitted to [the] clinic with the goal of releasing them back into the wild as healthy individuals."
I also asked how many squirrels the Center rescues each year. Argall said that it varies a lot, and is dependent upon changing factor, "such as local temperatures, how harsh the winter was, and the size of the prior year's mast crop." That said, they typically treat 300-600 squirrels annually.
Although caring for a baby squirrel may seem adorable, it's a ton of work.
"Very young squirrels require a great deal of care," confessed Argall. "Being born blind and naked, squirrels in the wild are kept safe and warm in the nest by their mother. Our staff must simulate the nest conditions with the use of an incubator."
"Our staff works very hard ensure the animals remain wild, and never become habituated to humans. Argall reassured us. "It's extremely important that the animals are ready both physically and mentally to be released when the time comes."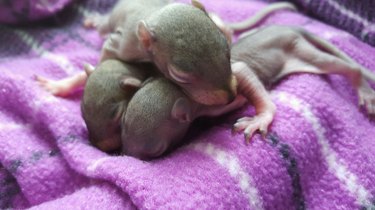 The baby squirrel who does not have a name — the Center does not name their patients because they feel it's important not to bond too closely with the wild animals — will be released into the wild in about 10 weeks.
Would you like to help Animal Rescue League's mission to care for animals? You can learn more about adopting, donating, and volunteering on their website.