Move over, catnip mice and bird feathers. Millennial kitties deserve cat toys that are of the times. Trust us, you and kitty will be all heart-eyes emoji over these!
Things You'll Need:
Printer and paper

Felt (yellow, black, red, light brown, white and pink)

Pen
Scissors

Hot glue

Dried catnip

Step 1:
Start by printing out the free templates. Cut out the face shape and then cut out the individual face features.
Step 2:
Trace the shapes onto felt and cut out. You'll need to cut out two yellow head shapes for each toy — one for the front and one for the back.
Step 3:
Assemble the face pieces on the head shape and glue in place.
Step 4:
Glue the front and back pieces together, but leave a 1-inch opening on one side so you can stuff it with catnip.
Fill the toy with 2-3 teaspoons of catnip and then glue it shut.
Prepare to have all the feels when you see your kitty play with these adorable emojis!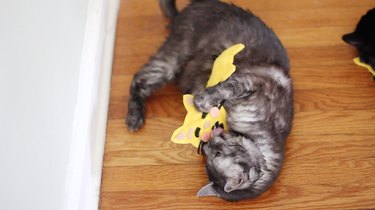 Did you try this DIY project? Share photos of your creations in the comments!