Cats at a Toronto-area shelter are sleeping better at night — and it's all thanks to the generosity of the world's largest furniture retailer, Ikea.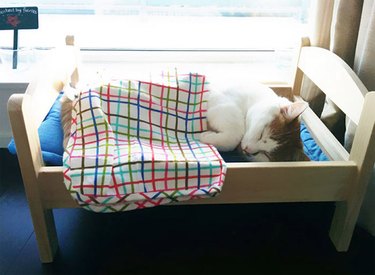 In a video posted to Facebook, the Etobicoke Humane Society explained that up until recently, its resident kitties had no choice but to doze on the "cold, hard floor".
Enter the Canadian arm of the home accessory behemoth, which thought that these sleeping arrangements just weren't gonna cut it.
While the Swedish chain doesn't actually sell furniture for pets (make it happen already, guys), there was a vowel-enriched, 20"-by-14" alternative just waiting to be lifehacked: the DUKTIG doll bed.
Along with $300, Ikea donated 10 of the doll beds to the shelter, the construction and deployment of which are chronicled in the short clip embedded below.
Though it's true that cats can literally catch zzz's anywhere, that doesn't mean they wouldn't prefer something more comfy to bunk down in.
Judging by pictures, the early reviews are in — and they're almost universally paw-sitive (sorry, not sorry).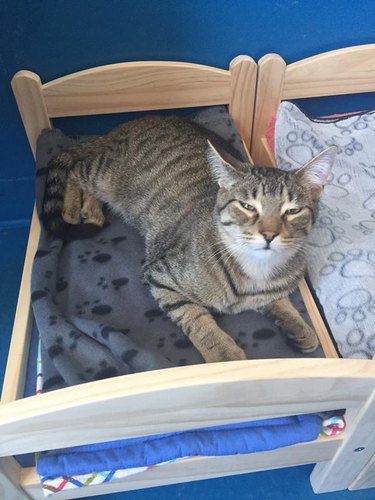 In fact, the lone meow of dissent comes from this feline who prefers to sleep under the DUKTIG.
The shelter thanked Ikea for its contributions in a statement.
"A HUGE thanks to IKEA Canada, the Etobicoke location for donating these adorable doll beds. Now the cats are elevated off the cold, hard floor. Our floors are easy to clean but not terribly comfortable to lay on. Now cats like Catsby and Frankie have beds of their own to curl up in.

Not only did IKEA Canada generously donate 10 Duktig Doll Beds but they were able to give us $300 as well.

The volunteers and animals thank you. Your generosity is greatly appreciated."
See the world isn't entirely terrible. Great job, everyone!
Does your cat have a bed? Tell us about it the comments below!