Using a Groupon to have portraits taken with you and your cat seems like a purrfectly reasonable idea. After all, who among us doesn't want professional pictures of our beloved pets? But when Reddit user wroboat got his JC Penny pictures back from the studio, he quickly realized that it looked like he had posed for an engagement shoot.
There's no denying these two look as happy as can be together.
From whispering sweet nothings into each other's ears...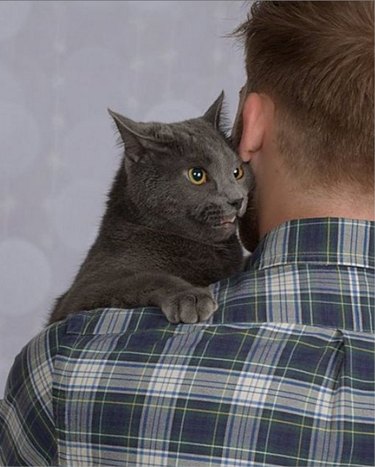 To totally #twinning with matching big smiles…
These two are making all of us we had a love like their love.
After wroboat's pictures went viral, people had some suggestions about how he could make the most of his beautiful pics with his furry feline, Charlie. The most popular suggestion was to use them on his Tinder profile to attract fellow cat-lovers.
These pictures were originally intended as a playful present for his mom, but they ended up being a gift that continues to give.
Plenty of online commenters admitted that they'd be more than happy to "paw" right on these pictures if they were on a dating profile.
And another comment appropriately asked, "Meow you doin'?"
Of course, the pictures with wroboat are charming. But Charlie's photogenic smile honestly steals the show.
So don't hesitate to get your pet portrait taken with your favorite fancy feline. Who knows? Maybe you'll get some great gifts out of the subsequent registry.