What did we ever do to deserve dogs?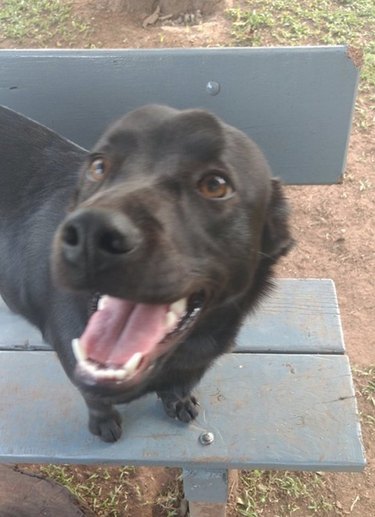 That's the question some in Brazil are asking this week after an 8-month-old puppy was photographed sharing her new winter blanket with a stray dog — that was sleeping on the other side of a fence!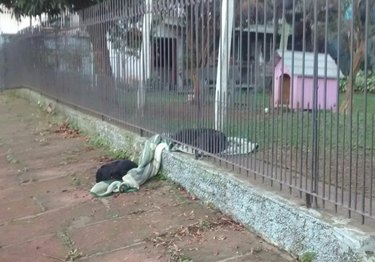 The tender, heart-melting snap comes to us from Ivoti, a city of about 22,000 people located roughly 90 miles from the Brazilian shoreline.
It was there that Lana, a chocolate lab mix, was rescued from the streets late last year by Suelen Schaumloeffel, a local journalist, and her fiancée, Luiz.
But while the adopted pup has transitioned into a loving home where she is lavished with love and attention, it seems she still has room in her heart for those that haven't been so fortunate.
All of which brings us to last week when a cold spell prompted Schaumloeffel to pad Lana's pink doghouse with a heavier blanket. After tucking Lana in for the night on Monday, the woman retreated to her bed inside.
When her partner left for work the next morning, he was SHOCKED by what he saw in the couple's front yard: Forsaking a bit of warmth for the comfort of her new four-legged friend, Lana had lugged that same blanket to a nearby fence, where the two pups were napping on opposite ends.
Schaumloeffel posted the resultant photograph on Facebook, where it has since gone hugely viral, along with a lengthy and heartfelt caption in which she praises the generosity and kindness of this very good girl.
With help from Google's translation tool, we've decoded it below:
"And when the animals give you an example of generosity? 🐕.

Inside the fence lives the Lana, a happy, affectionate and very nice little dog.

This week Lana won a new deck to face the cold and also made a friend in the street (the guy outside the fence).

Last night, before bed, we tucked the cover of the Lana in the little house so she could curl up and sleep.

Today was the scene from the photo! ❤️

Seeing the friend without a home and cold, Lana did not hesitate to share the deck. She led the way to the fence and offered a piece to her friend.

Each on one side of the fence, but both warm.

I swear that when I saw this record I was moved. Well, I was so overwhelmed by her generosity!

Can a dog be more supportive and rational than we are, what do we call ourselves humans? Yes!

How many times do we see a similar one of us passing need and ignore, we do nothing about it? Pretending not seen does not eliminate the problem, but gives the false sense that this problem does not exist. Holy ignorance!

Even beings who are called irrational give us moral lesson!

We seem to be losing our humanity.

Lucky for us we have these special beings to shake us from time to time. How proud of our Laninha! 😍

Note: the little friend is not helpless 😉"
According to The Dodo, the identity of the other dog remains unknown — he scampers off whenever the couple approaches — but they hope to learn more as they gain his trust.
For the time being, they've been leaving food and water on the far side of the fence because, "after all, that's what Lana would do if she could."