When Mo, an elderly Chesapeake Bay Retriever (she's now 14-years-old), went on a hunting trip with her humans in the Idaho mountains last September, she probably didn't realize just how long the trip would last. Mo wandered away from the family and got lost. Her owners, Darwin and Cindy Cameron, were devastated.
As Time reports, the couple stayed near the trip site (Horseshoe Bend, about 30 miles north of Boise) for three whole months searching for their lost pup but eventually, the weather took a turn for the worse (think lots of snow and harsh temperatures) and they weren't able to search any longer.
Then, a miracle happened. A starving retriever was found last month after it collapsed at a ranch. A woman named Cheri Glankler took the dog in and quickly realized that the dog had been on her own in the wild for quite a while. She posted about the pup on Facebook, and the Camerons realized that their Mo had survived and been found.
Glankler, a dog rescuer, explained to the Camerons that Mo wouldn't be exactly as they remembered.
"They all expect this kind of Disneyland response like you see sometimes in videos when veterans come home," she said, according to Time. "And to be perfectly honest, that's abnormal. People don't understand that (the dogs) have gone into survival mode."
And Mo was definitely impacted by her journey — she lost her hearing and half her body weight while she was lost in the mountains.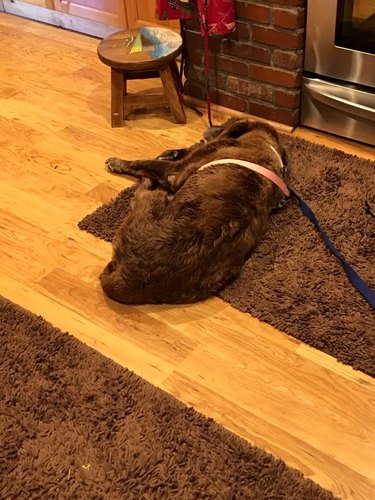 Still, Glankler said that it was clear Mo never gave up hope that she would find the Camerons and be reunited with her family.
"Who saved Mo? Mo saved Mo," she said. "Even here when I would take her out on a lead, she was searching. She knew who she was looking for. She's incredible."