For every interest, there's a convention.
And for cat buffs, the place to be later this month is CatCon, which is expected to draw roughly 20,000 people to Southern California for two days (August 12 -13) of feline-centric panels, seminars, celebs (of the human and four-legged variety), meet-and-greets, videos, products, and so much mohr.
Now in year three, the event — billed on its Facebook page as "part expo, part symposium" — is the brainchild of Susan Michals, a Los Angeles-based journalist and art critic eager to reshape the contours of the crazy cat-lady stereotype for a new generation of millennial pet owners:
"This is not a Cat Fancier show. CatCon is the nouveau cat lady," she declared in an interview with the Los Angeles Times last year.
Out then is any sort of shame or embarrassment; in are selfies, hashtags, "cattoos", fur-ocious cosplay, cat-icatures, and an unabashed love of our feline friends both online and IRL.
Even if you've been before, CatCon 2017 will "up the ante" over previous installments with new, more spacious digs, an expanded adoption village with nearly double the number of cats, an all-new awards show, immersive exhibitions, silent disco, fashion makeovers, and something the organizers are calling a "meme photobooth". (Our interest is piqued ... )
Before you drop everything and jump on an airplane, here's what you need to know about CatCon, the (only) "convention with cattitude".
A Clowder Of Stars
Headlined by Lil Bub (a "magical space cat" with 1.6 million followers on Insta) and actor Ian Somerhalder (The Vampire Diaries, Lost), CatCon 2017 boasts an artfully curated mix of "celebricats", authors, advocates, and influencers with bona fide kitty credentials, all of whom will make presentations touching on a wide assortment of topics.
From special needs animals and the secret history of cats in California to myths surrounding cat dads and a performance from Moshow the cat rapper (yup, that's a thing!), there's something on the schedule for folks of all ages and persuasions.
And that's the point because as Michals shared in a conversation with Cuteness over the weekend, she and her team are constantly trying to strike the right balance between perennial faves (such as the aforementioned Lil Bub who has appeared every year) and new additions like Nala Cat, an adorable Siamese and tabby mix that has cat-apulted to viral fame over the last twelve months, all in a bid to keep the programming fresh and vibrant.
Other must-see highlights this year include the CatCon Video Fest, which will collect 45 minutes of the year's best internet cat clips into one epic sizzle reel (think LOLs and Awwws in equal measure), and the First Annual CatCon Awards, which will hand out Oscar-like statues for cat-egories that run the gamut from "Freshest Loaf" to "Biggest Newcomer".
Pictured below: Ben Huh, the CEO of the CHEEZburger network, literally stealing the show two years ago with his impersonation of a cat on a leash during an absolutely HILARIOUS (and informative) talk on viral memes and how they spread across the interwebs.
Buy All The Things
Keep your wallet close because there will be 140+ vendors on hand hawking all manner of products — about half for kitties, and the rest for the hoomans.
From fashionable threads (both chic and punny) to bespoke furniture (towers, scratching posts, pet carriers, etc.) and keepsakes like stuffed animals, totes, and coffee mugs, it's all here for your shopping pleasure.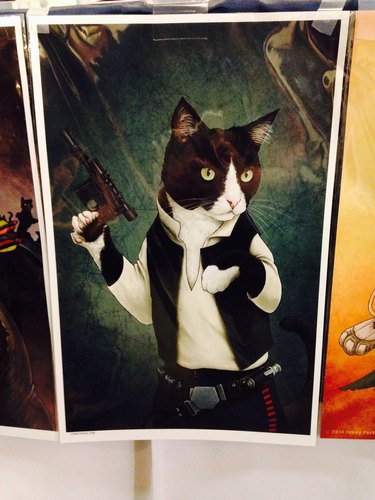 According to Michals, all of the brands are carefully screened to ensure they fit with CatCon's mission and standards.
As a result, the vendors at CatCon skew towards small imprints and startups with unique product offerings as opposed to chains peddling mass-produced junk that can be found in the typical pet supply store.
Adopt All The Kittehs
While the event's previous home was cool and centrally located in downtown Los Angeles, Michals is enthusiastic about CatCon's new spot at the Pasadena Convention Center — in large part because it affords the CatCon Adoption Village, one of the con's most popular features, much more space (nearly 4,000 square feet!) to showcase about 200 cats and kittens, all of whom are sourced from a formal partnership with the Pasadena Humane Society & SPCA. (By comparison, there were approximately 178 adoptions in years one and two combined!)
This extra breathing room should ease the stress on everyone, including the volunteers that manage the bottleneck of attendees eager to see the kittos.
And, in another first, organizers will block off private rooms for potential cat parents to meet with their would-be adoptees, a new wrinkle developed by working with animal behaviorists to create a harmonious environment for all parties involved.
"Above all," Michals added in our convo, "we're about the safety of the animals."
It's Not Just Fun And Games
Two dollars of every CatCon ticket — which you can, ahem, buy right here — are redirected to local charities (to date, the convention has donated about $75,000 to animal welfare groups).
And just like the merchants, the beneficiaries of CatCon's largesse are thoroughly vetted for their authority, credibility, and impact.
This year's flagship partner is the Ian Somerhalder Foundation, a charity close to Michals' heart because it helps defray the cost of pet surgeries for low-income families.
Up Close And Purrr-sonal
Want to get closer to your favorite A-lister? For $100 (a portion of which goes to charity), you can reserve a meet-and-greet with some of the famous cats in attendance.
Included with the ticket is the opportunity to pet your new BFF, pose for a snap (you'll be the envy of your fur-iends on social media), and get an "autograph".
Most of the slots, alas, are already booked up BUT there are still tix available for Sunday's sesh with Nala, White Coffee Cat, and Luna.
Take A Load Off
If you find yourself in need of a timeout, beat a retreat to the Cats Of Instagram-themed lounge where you can snap selfies, recharge your phone, and chill out until the next panel starts.
Leave Fluffy At Home, Puhleaze
CatCon is a celebration of cats but it isn't a place for them.
And while the idea of 20,000 cats in one building SOUNDS LIKE FUN, in reality, it would probably be a giant cat-astrophe. (Plus we know from science that if a bunch of cats meowed at the same time, we'd literally go deaf from the overwhelming din.)
So for this reason, please leave your kitties at home, where honestly, they'll probably be content to sleep away the day in a box or something. (In all seriousness, organizers will turn you away at the door if you try to bring cats inside the convention center.)
Except maybe for this guy.
For more info on CatCon, and what is permitted (along with what isn't), bounce over to their FAQ page. And look for us because a pair of Cuteness' very best reporters will be running around and documenting the scene!