On August 21, we're going to be treated to a once-in-a-life celestial event: a total solar eclipse. It will be visible in completion from Oregon, Idaho, Wyoming, Nebraska, Kansas, Missouri, Illinois, Kentucky, Tennessee, Georgia, North Carolina, and South Carolina, according to People.
Looking for a truly unique way to watch? Book a flight to Oregon NOW. The McPhillips Farm in McMinnville, Oregon, is hosting an exclusive eclipse-watching party with a group of friendly little goats.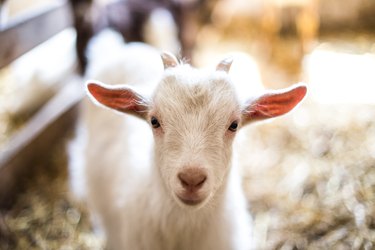 About 100 guests will get the chance to "join 35 very friendly goats in the middle of wine country for camping, BYOB cocktail party, local farm produce, barbecue, swimming, and a cowboy blackberry-pancake breakfast before and during the solar eclipse," People reports.
Tickets to the exclusive event are $100 per person, but for that price, you get to hang out with baby goats, baby lambs, and baby turkeys, all while getting an amazing view of a once-in-a-lifetime event. You also get to camp for two days at the farm, and dinner, breakfast, and protective glasses are included. SOLD.