Do you ever wish you had more time to indulge your dog's whims? Maybe he would love an hour-long walk, but you're on deadline and can only spare 15 minutes. What about a day when you're stuck at the office and the dog walker texts to say she's sick and can't make it today?
Would you trust a robot to step in for dog walking duties? LOL, SURE, you scoff, but the future is now — or the future is soon anyway. According to The Sun, a British company called DronesDirect is developing a drone that will walk your dog.
Yes, the internet has seen its share of fake (or at least believed to be fake) drone dog walking videos, but DronesDirect's product is reportedly really in the works.
The drone in development is reportedly based on the DJI's Phantom 4 drone and would retail for £2,000.
"This handy piece of tech means dogs have a companion by their side whilst getting the exercise and enjoying the fresh outdoor air they so desperately need on a daily basis," DronesDirect's marketing manager, Mark Kelly told The Sun. "This is a one-of-a-kind canine companion, which we are delighted to offer to all dog lovers."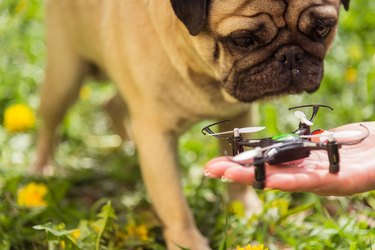 But the question remains: Even if this drone comes to be and even if you have the thousands it would cost to spare — would you trust a drone to walk your dog?