When humans walk into an animal shelter, we tend to be overcome by one emotion above all else — if "OMG I WANT TO TAKE EVERY SINGLE ONE OF THEM HOME WITH ME RIGHT NOW" is an emotion, anyway.
Here then are 17 adorable pets who are like "DITTO ... but in reverse, I guess."
1. It's like that scene in Hook, except this one can have a happy ending.
2. "Can my friends come too?"
3. One kitten in this cage wants to be adopted and one DGAF. Which would you take home?
4. "Welcome to the animal shelter! I think we have just the dog for you. She's a lovely English Bulldog, and she's me."
5. "But like, literally, you can't leave if you don't adopt me."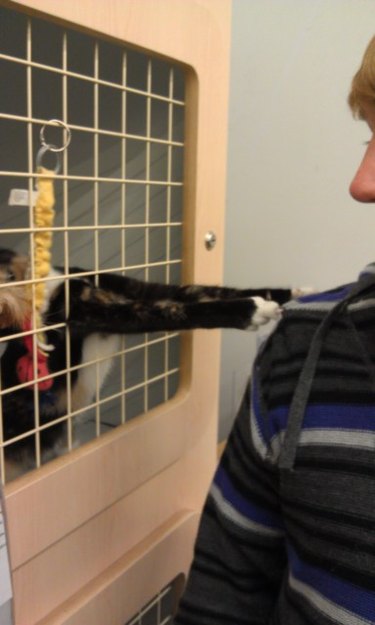 6. You just got OWNED, Carly Rae Jepsen.
7. HOW COULD ANYONE LEAVE THIS PUPPER HANGING?
8. "It's not that you CAN'T leave me, it's just that you would have to stop holding hands with me to do it."
9. This is a dog who is giving you an accurate preview of what's to come.
10. They say to put your best face forward ... or something like that.
11. "The key is eye contact. They can't leave if you just make eye contact ..."
12. If you won't adopt this kitten, she will fight her way out of the shelter.
13. This dog is the Hermione of the shelter.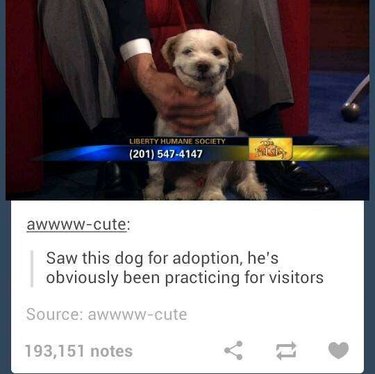 14. This cat is boycotting the floor until he's adopted.
15. If you went after your dreams half as hard as this kitten goes after hers, you'd be the BIGGEST success.
16. THAT FACE. HOW COULD ANYONE SAY NO TO THAT FACE?
17. Now that's showmanship. This dog could sell me a car.
​Do you like what you're reading? Awesome! Like us on Facebook for more laughs, join our newsletter for maximum cuteness, and then scroll through these photos of 20 animals acting like total dads. Your life is about to get 2,000 percent more adorable. Congratulations!​