It's time to get spooky! And these pets are soooo excited!
1. This pumpkin dog can't wait to carve his pumpkin!
2. Wait. Maybe this pug isn't so excited about Halloween.
3. And she isn't too sure about Halloween, either.
4. Ok, here we go. This spooky black kitten is very much looking forward to scaring you!
5. Oh no! This kitty got trapped in a very spooky spider web!
6. Everyday is Halloween for this fuzzy tarantula.
7. Cats love Halloween.
8. Even birbs like to dress up!
9. See, cats take Halloween very seriously.
10. He's watched The Shining one too many times.
To be fair it is a really good movie.
11. "There is nothing scarier than someone coming to the door."
12. Even this thing is ready for Halloween!
13. Low key, artistic kind of spooky.
14. The purrrfect option for those who hate wearing costumes, but still want to be cute and get attention.
15. Sherlock and Watson are on the case!
And are looking quite dapper!
16. Slow, but spooky.
17. Cats don't even really need a Halloween costume, do they?
Just some eerie lighting.
18. This was kinda unnecessary.
19. Totally necessary.
20. Literally, the stuff of nightmares.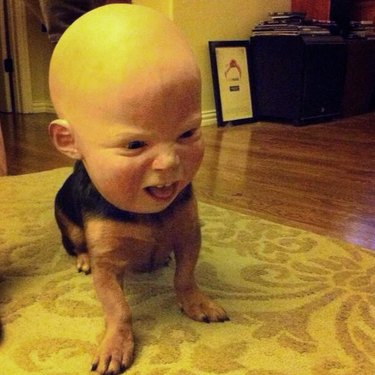 21. The winner of "Making the Best of a Bad Situation" Costume Contest
22. These dogs actually make pretty good horsies.
23. To some dogs, Halloween is the most confusing time of the year.
"It's happening again, isn't it?"
24. I present,the goodest boy this Halloween.
25. You probably didn't know this, but Albino Hedgehogs are always down to Trick or Treat.
26. This is my cat and she would be pissed if I didn't add her to this compilation.
I told her that Halloween is the time where we celebrate black cats and she totally bought it.
27. Her favorite horror movie is The Ring.
28. Um.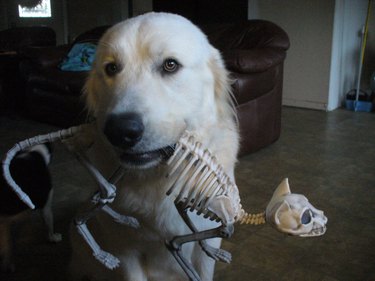 29. "Bones? Where are the bones? Did someone say bones!?"
Are you ready for even more adorable and funny pets? We're pretty sure you are. Scroll through this gallary of 21 photos of furry food-snatching burglars. It will probably send you running for the snack cupboard. Keep the hilarity on your screen by following us on Facebook and subscribing to Cuteness' newsletter!