If you're thinking about adopting a dog, you need to find the right breed that fits your lifestyle. Details like size, energy level, and personality can really affect not only your home but the happiness of your new furry friend. Doing your due diligence and researching is a great way to start off the adoption process! If you have the right kind of life for a charming, fun, and fluffy dog, then you might want to consider the Bedlington terrier.
The Basics
The Bedlington terrier is a small-sized dog with an adult male and female weighing 17-23 pounds, according to the American Kennel Club. Male Bedlington terriers can be up to 17.5 inches tall and females can get up to 16.5 inches tall. Life expectancy of the Bedlington terrier is around 16 years.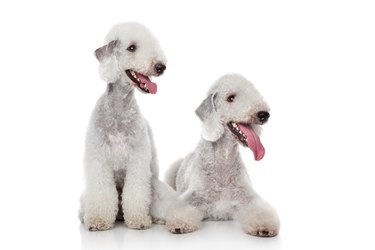 The History
The Bedlington Terrier's history is somewhat of a mystery! However, it is known that in 1820, Joseph Ainsley of Bedlington acquired a female dog, Coates Phoebe, who was bred in 1825 to produce the first Bedlington Terrier.
In 1877, the breed grew in popularity so much that the National Bedlington Terrier Club was formed by a few influential fanciers who made themselves responsible for bringing the breed to the notice of the public.
The Personality
Bedlington terriers are great companions, demonstrative and loyal. They are also a fairly quiet house dog. They may need some supervision when it comes to getting along with other dogs. If intimidated enough, they can be scrappy and fight when pushed, according to Animal Planet.
The Appearance
Bedlington Terriers, fluffy and unique looking, are covered with a lavish topknot on their head, highest at the crown, and tapers gradually to just back of the nose. They are muscular and flexible with a deep chest and deep, flat ribs. This breed is graceful with a very distinctive mixture of hard and soft, curly hair that is crisp to the touch but not wiry.
Bedlington Terrier essential facts:
Personality: Charming, full of fun; a loyal member of the family
Energy Level: Very active
Barking Level: Barks when necessary
Shedding: Infrequent, hypoallergenic
Grooming: Occasional
Good with Children: Better with supervision
Trainability: Responds well
Height: 16.0-17.5 inches (male), 15-16.5 inches (female)
Weight: 17-23 pounds
Life Expectancy: 11-16 years