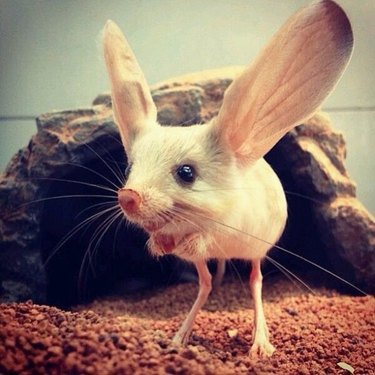 Here at Cuteness, our mission is to scour the interwebs for the world's cutest animals.
Sometimes — okay, fine, most of the time — that leads us to our editorial bread and butter: domesticated pets like jerky cats and chubby puppies.
But, on occasion, we turn our gaze to creatures a measure more obscure and exotic.
And today, friends, is one such moment because we want to talk about our newest critter crush, the jerboa, a desert rodent native to China, Mongolia, and Northern Africa.
Here then are seven things you need to know about this very unique, rarely-seen, and achingly cute animal.
1. SMALL BUT FLIGHTY
At about 2-6 inches in length, the average jerboa is roughly equal in size to a human fist. While this would appear to make them easy targets, researchers say they can jump up to 3, 6, or even 10 feet (!!!) in the air when threatened by predators.
2. NO WATER, NO PROBLEM (HOVER OVER TO PLAY)
Having adjusted to harsh desert landscapes over millions of years, jerboas do not drink water to stay hydrated. In fact, according to science, they meet all of their moisture needs through diet, which typically consists of plants, seeds, and small insects.
3. BURROW ALL DAY, PARTY ALL NIGHT
Like many desert animals, jerboas sleep through the day, only to emerge after the sun goes down and temperatures dip. To beat the heat, jerboas shelter in underground burrows that are often located near plant life and field borders. Some species even dig out multiple burrows, one for hunting and another for raising offspring.
4. THEY NEVER SKIP LEG DAY
Aided by hind limbs that are at least four times the length of their forearms and elegant, kangaroo-like tails that lend balance and stability, the jerboa is a powerhouse from the (backward) knee down. As National Geographic notes, they can cover up to 6 miles nightly in search of food!
5. VANISH INTO THIN EAR
There are 33 known species of jerboas, including at least six that are classified as pygmies. Of those, the most curious and strangely-proportioned is the long-eared jerboa. True to their name, these Yoda-like hearing organs dwarf the head and measure up to two-thirds the length of the jerboa's body, giving them "one of the largest [such] ratios in the animal kingdom."
For their part, scientists speculate that this is an evolutionary strategy for distributing excess heat (similar to say, jackrabbits).
6. I, JERBOT
Biologists at the University of Michigan think the jerboa's impressive speed and leaping ability could pave the way for future breakthroughs in robot design. To this end, they've used computers to model their gait and bipedal locomotion in three dimensions.
Published in Nature Communications earlier this year, the team's findings "could help engineers make biomimetic robots that are tailored to specific environments" — like deserts or desert planets.
7. NOT A PET PROJECT
Jerboas can live up to about six years, but they aren't suitable as pets. While there are exemptions for scientific study, the U.S. Centers for Disease Control and Prevention has prohibited their importation since 2003 thanks to the species' "association with monkey pox". 😢
For now, we'll have to profess our love for these tiny cuties from afar, on the internet.
Have you ever seen a jerboa, either at a zoo or live in person? Share your experience in the comments below!