Since time immemorial, dogs have been locked in a bitter struggle for dominance with mailmen everywhere.
But their relationship with delivery drivers is a measure more loving if these pictures from UPS Dogs, a trending Facebook page launched 5 years ago by an employee with the global logistics behemoth, are to be believed (spoiler: they are!).
Thanks to its feel-good vibes and a grip of breathless features at sites like Time and Bored Panda, the community is riding a wave of viral buzz and its follower count has mushroomed accordingly, from 100,000+ to 280,000+ in the last 36 hours alone.
In a Q&A with BuzzFeed, Sean McCarren, the page's creator and primary moderator, explained that all of the images are crowdsourced from his fellow UPS drivers working routes across the country.
"I wish we could just hang out with the families and their dogs all day, but it's just not feasible," he added.
Enough, though, with the backstory! Let's cut to what's really important here: the happy snaps.
1. "I had the pleasure of meeting this beautiful Doberman ... one afternoon this summer. She had never climbed into a strangers vehicle, but ... when I spoke to her owner and asked him if I could give her a cookie, she climbed right in without any hesitation and let me pet her and say hello."
2. "Peek-a-boo 😍😍😍❤️"
3. "Any corgi fans out there? Love these little guys! Monroe, WA"
4. "Who gets the first cookie???"
5. "Another throwback to one of my favorite dogs from last [week]. I wish my wife looked at me like that."
6. "Gustav and Circa are very patient but will slobber-knock you out! "
7. "This is buddy. His owner says I'm his favorite other person. When I get to see him I take my break because he holds on to me and doesn't want to let me go. It always makes my day."
8. "Meet Jax!! He's a hot mess of a bulldog😀 nothing but love & snorts here!!"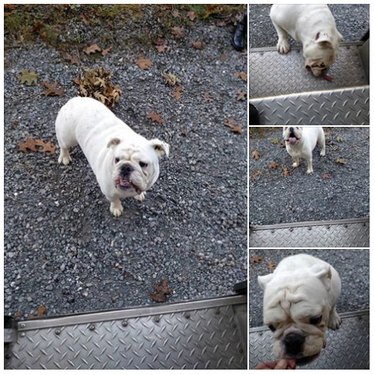 9. "This is Mocha ... in north Tustin, Ca."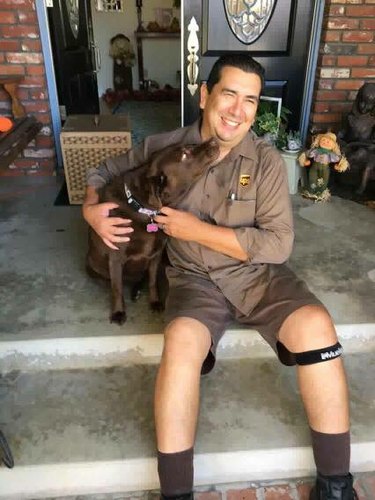 10. "Baby Backup sayin' hi in San Antonio."
11. "This pic is at least 10 years old. Our Lab Tucker and our UPS guy were BIG buddy's. Tucker passed a few years ago and the driver got a different route. But all 5 dogs like to greet the drivers. We run a biz from home so they see each other a LOT!"
12. "A cute head tilt is automatically good for 4 extra biscuits. Being a sweet old blind Labrador is good for 4 more also. These two con artists really know how to play me ... "
13. "We have a new driver in training today, but he's still trying to reach the peddles 😂."
14. "Thank for this page, I love it! This is Callie, the sweetest, most loving, and playful little French Bulldog you've ever seen."
15. "Look into my eyes"
16. "Someone is peeking at me 👀 ❤️"
17. "Rudy is blind as a bat, but that doesn't stop him from following the sound of my truck until I feed him!"
18. "He is a sweetheart by day, but the owner said don't deliver at night as he turns into a monster 😮"
19. "2 proud Upsers here with their own 2 German Shepherds. It's not everyday you can get a photo shoot with your own fur babies in your own brown rig! 🐾 ❤️"
20. "These 2 scared me to death when they surprised me in the back of my truck !! 😂😂 But all they wanted was my treats !! ❤️"
21. "This little fella will run down the road to his neighbors that get packages everyday, anytime he's outside, he comes down to meet me at the truck! You must pay a biscuit toll to return to your truck!"
22. "My favorite stop, he loves when I visit with him."
23. "'George' our regular for years got a route closer to home. We were one of the last stops so he always shared his leftover snacks with dogs. Enter 'new guy'. I told him this is George's fault, he shared his lunch with them! My other golden was in the front of the truck looking for said 'lunch'."
24. You made it this far, congrats! Your prize? A gaggle of achingly cute puppies!
25. That's a weird looking doggo #waitwut
Is your pup BFFs with the UPS driver? Share their story in the comments below!