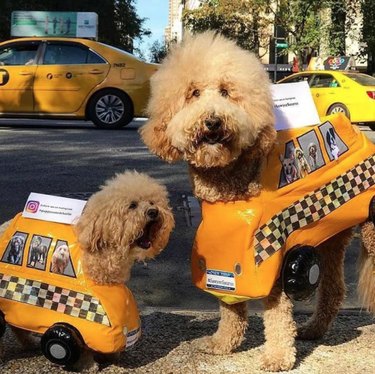 With Halloween now less than a week away, costumed canines are starting to flood social media timelines everywhere.
Now in its 27th year (!!!), the annual event attracts hundreds of area dogs to model their Halloween ensembles before an estimated audience of 25,000 humans, almost all of whom were furiously trying to 'Gram the proceedings.
From the topical to the evergreen, here are the best Halloween dog (and people!) costumes spotted at what some say is the Big Apple's cutest tradition.
Because 2017, there were TONS of costumes inspired by the year's surprise box office smash, "It."
The same could also be said for Hulu's "The Handmaid's Tale," or "The Handmaid's Tail," as some punned it.
There was even an outfit inspired by Richard Simmons.
Naturally enough, political figures like KellyAnne Conway and Sean Spicer also came in for the Halloween doggo treatment.
There were even a couple of UPS doggos, who are definitely having a moment right now.
Still, some of the cutest cosplays were timeless cosplays.
Like this little dude, the newest "sher-ruff" in town.
And this hilarious Boy Scout-Girl Scout duo. 😍
Also, funny AF was this clever number, which was very much on season and captioned "Maggie's feline fine". 😂 😂 😂
"Let me draw you like one of my French bulldogs," this one seemed to ask.
Some of the costumed woofers aimed for the sky in both concept and execution.
Of course, no Halloween costume contest/parade would be complete without at least one or two Star Wars-themed entries.
Indeed, a huge number of the costumes were drawn from the well of pop culture like Waldo ...
... Beauty And The Beast ...
... Beetlejuice ...
... and Sesame Street.
A tribute to Dr. Seuss, this group costume was simple but effective.
Costumes that put a local spin on things were also very popular with attendees.
Give this dog and his people ALL the 🏆 🏆 🏆.
"Costume? Pfffft, this is what I wear every single day." -- this pup before slowly shuffling out of frame to the sounds of Bad To The Bone.
Were you at Thompkins Square for the Halloween dog parade? Tells us all about it in the comments below!