When you pack on extra pounds, there's no shortcut when it comes to shedding them. You have to put in the work, and that means watching what you eat and hitting the gym. The same is true for dogs — just ask Strudel, an obese golden retriever who has been training hard to get back to a healthy weight.
Strudel has dealt with a lot lately. The 7-year-old pup recently lost her owner and was adopted by another family. Unfortunately, the family couldn't care for Strudel, given the help she needed because of her weight.
So Strudel began a weight loss journey. When she started out, she tipped the scales at almost 80 pounds.
As People reports, the Virginia Beach-based rescue Heart for Hounds posted on Facebook looking for a forever family who would be able to care for Strudel and help her with her weight loss.
Because the world works in mysterious but sometimes wonderful ways, John and Kristy Cotthaus, the owners of Zoom Room, an indoor dog gym, saw the post and stepped up to help.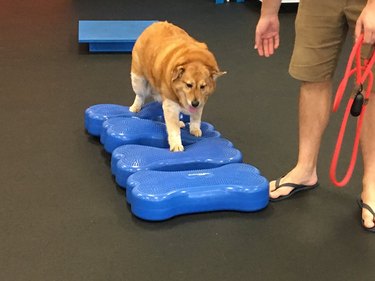 John and Kristy offered Strudel free agility training to help her lose the weight.
Strudel started coming to classes with her foster family and lost close to 10 lbs. in the first month alone.
After three months of training at Zoom Room, Strudel has now lost more than 20 pounds and weighs a much healthier 58.8 pounds.
Strudel is still working to lose weight and find a forever home, but Zoom Room has been a big part of her journey back to health and happiness.
Always check with your veterinarian before changing your pet's diet, medication, or physical activity routines. This information is not a substitute for a vet's opinion.