Here's what you'll need:
Red fleece

Green felt

3/4" Elastic

Bells

Needle

Thread

Scissors
Step 1
Measure your dog's neck and cut the fleece 3 inches wide and 2-4 inches longer than your dog's neck.
Step 2
Fold and stitch lengthwise, stopping 1/2 inch from the ends.
Step 3
Cut elastic to the size of your dogs neck.
Step 4
Turn the fleece so the seam is inside and slip the elastic through the fleece tube.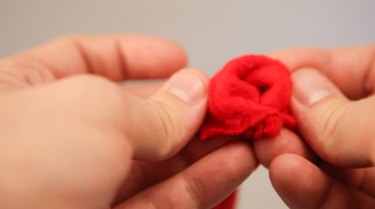 Step 5
Stitch the elastic together.
Step 6
Stitch the fleece closed.
Step 7
Cut four holly leaves out of the green felt.
Step 8
Make the leaves thicker by sewing two leaves together.
Step 9
Step 10
And there you go! Now your dog is the most festive of all.