Just like the pop song, Princess and Nate found love in a hopeless place. These two pit bull mixes live together as a couple with their foster human, Bastrop Animal Rescue's Community Outreach Director Anne Ford.
These love-struck animals met thanks to the shelter that saved both of their lives. When Nate was first taken to the shelter by a good Samaritan, he was malnourished and had a whole slew of health issues. Through the love and care of those at the shelter, Nate was brought back to good health just in time to meet his true love.
Princess was brought to the shelter after getting hit by a car. She also had a number of health issues in addition to needing life-saving surgery. Plus, this very good girl is also deaf.
But once she came to her new foster home with Anne Ford, she met Nate and everything suddenly became better. As these lucky dogs healed their bodies, their hearts intertwined even more.
The canine couple do and share everything together.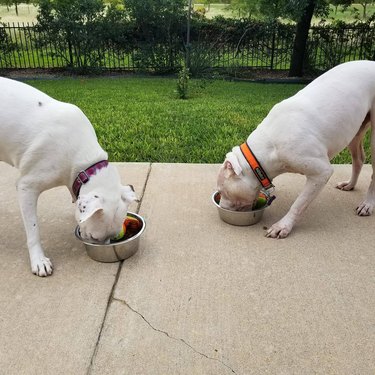 "They have their routines, like an old married couple. They are always curled up together," Ford told BFAS.
Of course, the shelter hopes that they'll get adopted together since they're clearly content by each other's side. Finding an owner willing to take on two pit bulls at once, including one with special needs, may be difficult. Then again, so is finding your soul mate. So if these two can accomplish that, they can accomplish anything together.
And hopefully, the heartwarming story of their bond will attract a capable hopeless romantic with a big enough heart and home for both of these puppy lovers.