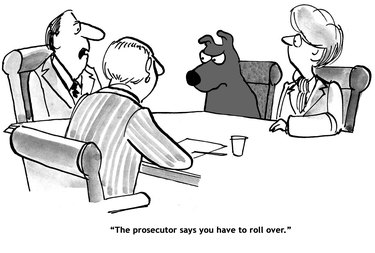 Usually, the idea of a dog dressed up like any kind of professional human would be hilarious and awesome and just all-around perfect. But in this case, we're not laughing.
When suspect Warren Demesme asked for a lawyer while police questioned him, his request was ignored. Sounds like a clear-cut case of wrongdoing, right? The Louisiana Supreme Court didn't think so — it denied his writ of certiorari, saying his request for legal counsel was ambiguous. Here's what Demesme said, according to Above the Law:
"If y'all, this is how I feel, if y'all think I did it, I know that I didn't do it so why don't you just give me a lawyer dog cause this is not what's up."
Even picturing this lawyerly dog doesn't make this story any less cringe-inducing.
(There's something fowl about this case.)
Here's how Justice Scott Chrichton explained the ambiguity the court saw in the request:
"In my view, the defendant's ambiguous and equivocal reference to a "lawyer dog" does not constitute an invocation of counsel that warrants termination of the interview and does not violate Edwards v. Arizona, 451 U.S. 477, 101 S.Ct. 1880, 68 L.Ed.2d 378 (1981)."
Really, this comes down to the police (and, subsequently, the Louisiana Supreme Court) purposefully interpreting a request for a "lawyer, dawg," as a "lawyer dog." Just a lesson in how far adorableness can take you—the cut off is officially obstruction of justice.