Meet Shon Griffin, a 5-year-old hero who likes to dress as famous heroes as he helps cats on the streets of Philadelphia.
Shon's aunts, Kia Griffin and Kris Papiernik provide food, water, and much-needed healthcare to feral cats in the city through their feline foster and rescue charity, Kolony Kats.
When Shon was three, he started showing an interest in helping with their work.
Kia and Kris were hesitant to bring Shon along at first — after all, 3-year-olds are rambunctious and feral cats are unpredictable. However, their fears were quickly eased because Shon had a natural way with the cats.
Kia and Kris started Kolony Kats four years ago when they spotted two feral kittens (Lady and Bug) hiding behind a row of houses in a driveway. They started feeding the cats and were able to catch Lady quickly and get her spayed and given the shots she needed to be healthy.
They released Lady back outside but weren't able to catch her buddy, Bug. Over the years, more and more cats joined the "Kolony" and each one was caught, spayed/neutered, and released again — except Bug.
Eventually, the rescue program expanded to include four locations, but Bug still eluded them. That all changed when Shon started coming along though. All of the cats — including Bug — gravitated toward Shon.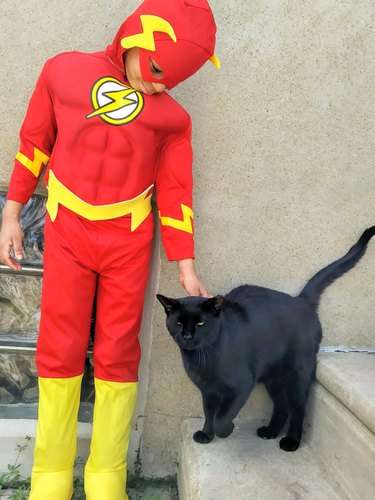 Kia and Kris were finally able to catch Bug and get him neutered and up to date on his shots before releasing him back into the Kolony.
Shon gives every cat chin rubs and attention, because that's what real heroes do, obviously.
"Shon comes to spend at least one weekend a month with us, and always looks forward to helping us with all of the cats," his aunts explain. "If it is raining or snowing and he can't go, he gets upset. Sometimes he likes to wear his superhero costumes because he said it makes him feel like a superhero for the cats!"
Kia and Kris also foster kittens in their home (a group they call The Indoor Kitties) and those cats love Shon too, napping and cuddling with him and waking him up with kisses.
Kia and Kris take care of groups of feral street cats (The Kolopny Kats, Backyard Boys, Gas Station Kitties, and Stray Kitty Crew) who they feed and water twice daily — rain or shine.
They are also the authors of a children's book, Be Kind To Kats, which is available on Amazon.com. The book teaches children everything the aunts have taught Shon about feral cats and how to be kind to them. If you want to support Kolony Kats' efforts, you can donate to their GoFundMe and follow them on Facebook and Instagram.