Biscuit "The Great" — as she's so called on the dog agility circuit — and her sister, Echo, are definitely a dynamic doggy duo. Biscuit joined the fur family in 2004 as a companion but has since become an incredible agility competitor. Now 11 years old, Biscuit's agility competition days are winding down, and her little sister Echo is ready to take her place.
Since joining the family three years ago, Echo has demonstrated not only agility, but mischief. "We are learning just how smart she can be when we aren't home," confesses Crystal. After the adoption, she made sure to put Echo on the family's pet insurance plan, which had protected Biscuit since 2012.
Crystal's faith in her pet insurance policy and her finances, were about to be tested. In the fall of 2015, she returned home from an agility competition, putting her suitcase in the family's spare bedroom. "Our spare bedroom has a baby gate across the door to prevent Echo from entering and causing mayhem," she says.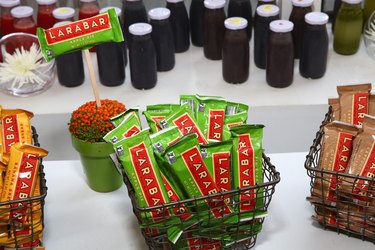 At 2:00am, Echo had a series of mysterious accidents around the house. Crystal, being the brave pet parent she is, decided to dig a little deeper into the mess — with a Q-tip, of course. She discovered what looked like almonds in Echo's business. Another incident an hour later prompted Crystal and her husband to scour the house for evidence, but the pair discovered nothing awry. It wasn't until they looked beyond the baby gate — which was still standing — that they found the culprit: two Larabar wrappers.
"Echo had scaled the baby gate, unzipped my suitcase, eaten the Larabars, and then scaled the baby gate again, and ran out of the room!" recounts Crystal. Despite the puppy-proofing and multiple zippers, Echo managed to chow down on Crystal's secret travel stash of Larabars. (For those wondering, Larabar is a Colorado-based brand of dried fruit and nut bars.) Crystal went into panic mode. "Frantic googling commenced," she says. Echo began to vomit, a result of the nuts and raisins in the Larabars. At some point during the chaos, big sister Biscuit wandered in and began a clean up operation of her own, which also lead to vomiting.
Despite a hectic night, both Biscuit and Echo showed no worrying signs beyond the vomiting. "Since it's now 4:00am and the girls both seem fine, we make the executive decision to wait until the vet opens at 7:00am," recounts Crystal. They were outside the vet's door by 7:00 a.m., and shortly thereafter, both girls were being treated for raisin toxicity. IV fluids helped to flush the toxin out of their systems; raisin poisoning in dogs can prove deadly within 48 hours. At first, pets may appear relatively healthy and unharmed, the only visible symptoms vomiting and diarrhea. Kidney failure suddenly sets in, and pets become weak, lethargic, or abnormally thirsty.
Crystal's veterinarian reported the treatment was working and both girls would be able to come home the following morning. Friday arrived, "go home day for the girls," Crystal recalls. Unfortunately, Echo had a little bit of mischief left in her.
"We hear from the doctor that in all his years of practice, he's never seen a dog pull the IV catheter out of the IV bag outside of the crate," says Crystal. Even the vet described Echo as "the troublemaker;" she would need to stay an extra day to receive the fluids she had rebelled against the night before. After nearly a week, both Biscuit and Echo returned home. The total cost of Echo's vet visit? $614, with $452 covered by pet insurance.
The effects of raisin toxicity can be long lasting, especially for senior dogs. Biscuit has been struggling with elevated liver enzymes, which indicate an infection or inflammation, however it wasn't related to eating the Larabars — but if she hadn't gone in, the health issue would have gone undetected. "Pet insurance has helped since it gives us the freedom to pursue further treatment options that otherwise would be cost prohibitive," explains Crystal.
Biscuit is currently on a regimen of antibiotics and anti-gallstone medications that are pretty pricey. The total cost of her treatment so far is $1,450, with pet insurance covering over $1,200 of that amount. And sickness didn't stop her at all; she recently competed in an agility trial and went 10 for 10.
"I encourage everyone to get pet insurance," Crystal says. "I didn't have it when Biscuit had a foreign body obstruction and luckily I had a safety net that I could dip into to pay for the surgery. You never know what your pets will get into and you'll be glad to have that safety net of pet insurance when that 'something bad' does happen!"
Always check with your veterinarian before changing your pet's diet, medication, or physical activity routines. This information is not a substitute for a vet's opinion.