Most of the time, the Cuteness team is slaving away behind a keyboard, on the prowl for the web's most adorable critters.
Hosted by Santa Monica's Main Street Business Improvement Association, the competition drew a bevy of costumed canines, adoring humans, and local vendors to the Pacific Dog Park for fun, sun, and plenty of LOLs.
But we weren't just there as spectators: Our editor-in-chief (Ryan Tronier) and pawdcast team (Allegra Ringo and Renee Colvert) actually had the honor of judging the contest and bestowing prizes upon the winning pups!
With great power, as they say, comes great responsibility — and the opportunity to take fun 'Grams of Boomer and Kenny, a duo who took first place in the "Cutest" category with their ludicrously cute cho-cho train.
Taking the top spot in the "Couples" category was Toby the dog and his peoples Stephanie and Dax, who were costumed as spaghetti & meatballs, waiter, and chef, respectively.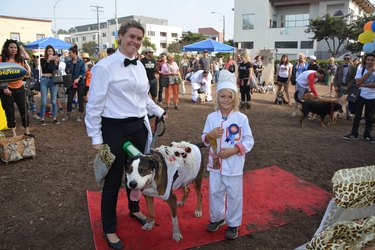 In an interview, they noted that the clever ensemble was "a labor of love" that required "a lot of hot glue."
"He's not very tolerant [of clothing] so I'm impressed he's even stuck with the parmesan cheese," she added jokingly.
Rounding out the winner's podium for the "Spookiest" outfit was Bullwinkle, a 4-year-old Boston terrier who cosplayed as a shark, complete with fake blood from the Halloween store.
Speaking with Tronier, Bullwinkle's parents Kathy and Jimmy revealed that they were inspired to enter after coming to the previous year's edition.
"We like it, he hates it", they laughed.
For their efforts, all of the top dogs were rewarded with $50 gift cards from a returning sponsor and Santa Monica pet supply store, Animal Kingdom.
But enough of the chitchat, let's look at some of the awesome Halloween costumes!
The Dogyear Blimp!
"Up!"
Joker and Harley Quinn
Taco dog!
Hot air balloon dog!
Starbucks Puppuccino dog!
Jenny Rice, the Assistant Executive Director of the Main Street Business Improvement Association and one of Howl-O-Ween's organizers, pegged the total number of four-legged participants at 40, an impressive total for an event that's still finding its footing.
"We were excited to bring people down to Main Street in a fun, creative way", she shared in a Q&A with Cuteness before walking off to pet all the good puppers.
Coolest dog in the world
Demon doggo
Hi-five, cowboy
Hollywood Blvd, aka a taco truck and celebrity photo opp
Georgia the "udderly ridiculous cow."
Bad Dogs 4 Life
Doggo de los Muertos
Sushi pooch