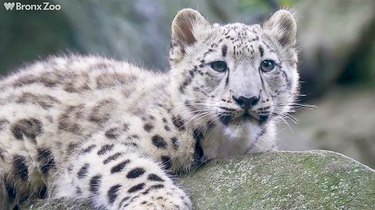 "BRB, jumping on a plane to New York City."
Such was our breathless, DROP-EVERYTHING-AND-LOOK-AT-THIS reaction earlier in the week when a snow leopard cub with a stunning coat made her debut at the Bronx Zoo.
Thus far unnamed, the "baby ghost cat" comes with a celebrated pedigree: As CBS New York reports, she's "the second generation offspring of a famous snow leopard named Leo" who arrived stateside in 2006 after he was found orphaned in the mountains of northern Pakistan.
In a 2:26 video uploaded to YouTube, the cub, who was born earlier in the summer, can be seen frolicking with her equally beautiful mom in the zoo's Himalayan Highlands exhibit.
The clip's highlights are multitude and they include the mother-daughter duo doing lots of snow leopard stuff. Like cuddling ...
... grooming ...
... and even some play wrastlin'. 😂
And while this is a role typically reserved for dogs, she appears to already have the inside track on the zoo's Branch Manager opening. 😉
Watch the whole thing embedded below, but steady your heart because you are about to feel ALL the feels.
Searches for plane tix, throws credit card at computer. * 😻 😻 😻 😻 😻 😻 😻 😻