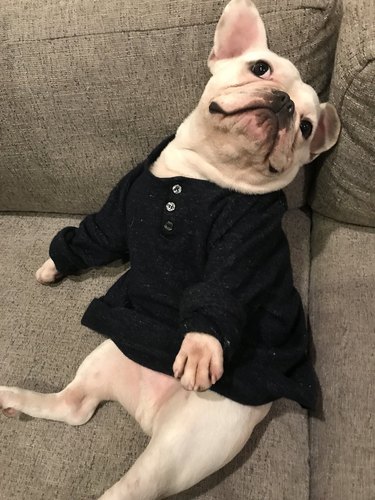 Ruh roh.
That was Alex Tumay's reaction when he pulled his favorite wool shirt from the washing machine. To his dismay, the black henley had shrunken dramatically — to the point that he could no longer wear it.
But, making the best of a bad situation, the 31-year-old audio engineer and DJ found someone else to model the cherished threads: His adorable pup, a French bulldog named Gordie!
Writing on Twitter, the Atlanta-based Tumay shared the wardrobe mishap with his 45,000+ followers:
"Bad news: I accidentally washed a nice wool shirt that I really loved and it shrunk a LOT Good news:"
Not surprisingly, the internet lost its collective shit when Tumay's folly trended onto the microblogging platform's Moments tab.
"IM SCREAMING," wrote this woman with a broken caps lock button.
"I see no bad news," joked a second.
"I read this in the dog's perspective by accident," shared another.
For some, it was a teachable moment with a silver lining: "Next time I shrink a sweater I'm buying a pet that can fit it[.]"
The relatable episode prompted others to share their own washing woes: "Wish I would've seen this tweet before I washed the wool sweater I got this weekend 😪"
And other henleys, it seemed, had suffered a similar fate: "Samesies, though not as severe."
While there haven't been any additional snaps of Gordie sporting his new shirt, he's a regular on Tumay's timeline, as the tweets compiled below illustrate.
D'awwwww.
Gordie's squadmate is pretty cute as well.
Spoken like a true dog dad.
Have you turned over a treasured keepsake to your pet? Tell us about it in the comments below!