Few things are harder on your heart than saying goodbye to a beloved canine companion.
So when Archie the golden retriever was diagnosed with cancer, his "big sister" Amy Thompson took to Twitter to share a touching tribute to her long-time fur friend.
The series of 16 tweets tug at any animal lover's heartstrings.
Thompson included both pictures and videos that share with the world how special Archie was.
She shared some of her favorite looks ...
... and some of his favorite toys.
The whole series was a beautiful reminder of just how much joy a dog can really bring into your life.
The tweets embraced what a good boy Archie was.
And they showed off his delightful personality.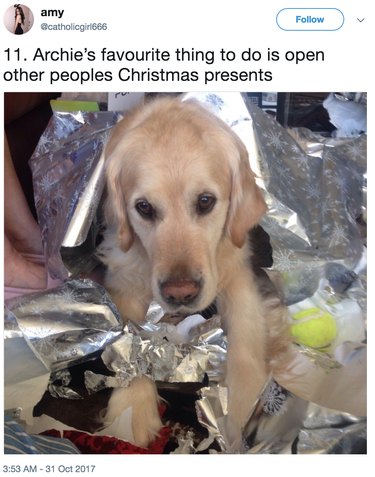 It's hard to scroll through all of them without becoming understandably emotional. Many fellow dog owners — past and present — responded to her posts with love and support.
The last tweet was Archie's final picture before he took one long peaceful rest later that afternoon.
If you're needing a good cry, look no further than this emotional Twitter dog memorial. And if you're lucky enough to have a furry four-legged friend still with you, you may want to give them some extra kisses while they lick the tears from your eyes.