Hawaiian Sanctuary Is Heaven On Earth For Cat Lovers
Cuteness may earn compensation through affiliate links in this story.
It was the night before my last full day in Maui when I overheard two women cooing over pictures of cats taken at a local sanctuary.
Curiosity piqued, I retreated to my room to grab a laptop. Thirty seconds of Google-sleuthing later, the existence of said sanctuary was confirmed — only, to my surprise, it was on Lanai, the neighboring, coma-shaped island 9 miles to the west. Even more astounding: the Lanai Cat Sanctuary is reportedly home to nearly 600 former strays and feral cats!
When additional research revealed that a ferry traversed the strait between Maui and Lanai — known to map nerds as the Au'au channel — five times daily, I scrapped my plans to sip Mai Tais on the beach and bounced a couple of frantic, late night pitches off my editor.
"Let me go!" I pleaded in a text. "AADFJAKSDLFJALSDF," read a second one.
The next morning, I found an assignment waiting for me in the Cuteness CMS, along with instructions to "take a [f*ck] ton of pictures."
After packing a day bag with a camera, phone charger, and sunscreen, I hustled down to the Lahaina harbor, forked over $60 for a round-trip ticket, and settled in for the hour-long crossing. As we approached Lanai's small boat harbor, Manele, under clear blue skies, we could make out a rugged coastline and not much else. That's because aside from a pair of posh, 5-star resorts on the island's southern side, Lanai remains almost entirely undeveloped, at least relative to its Hawaiian siblings. It doesn't even boast a single traffic light.
Idling nearby as passengers disembarked was Rabaca, the titular proprietor of Rabaca's Limousine Service. A native of Lanai, she's built a niche business busing visitors between the sanctuary and the harbor for $10 each way. Along with a dozen other tourists, I piled into her van and we slowly started winding our way up the hillside, which climbs dramatically to an elevation of 1600 feet. On this day, we detoured briefly at the top to the island's sole settlement of note, Lanai City (definitely something of a misnomer), so someone could hit an ATM.
Less a bustling metropolis and more a charming hamlet, the majority of Lanai City's 3,100 full-time residents are clustered around a picturesque park and a pocket of low-slung structures including homes, shops, and a single hotel.
After ten more minutes, we arrived at our destination, the Lanai Cat Sanctuary, where we passed through the first of two gates and were welcomed warmly by volunteers.
Waiting for us on the other side a second gate were the aforementioned "Lanai lions," who right now number approximately 597.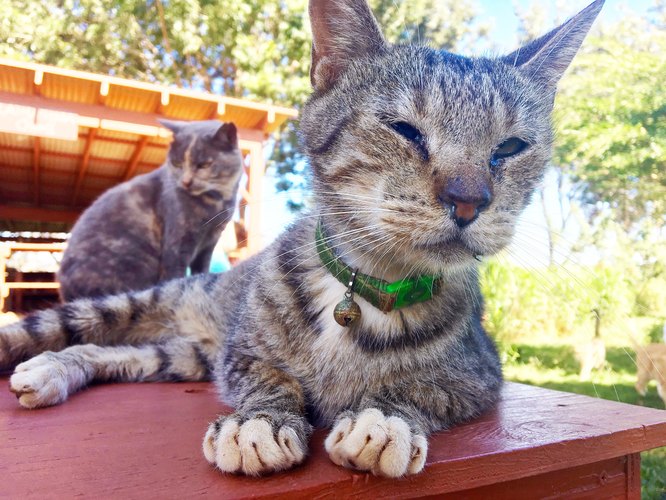 Big cats, small cats, adults, kittens, calicos, and tabbies — all could be glimpsed within the confines of the chainlink fence that rings the property.
Some were slinking about, slyly begging for treats (because cats, LOL), while the remainder — some a measure more reserved and shy — could be spotted napping in a riotous assemblage of baskets, boxes, bowls, tunnels, and even a spare wheelbarrow.
Let's just say the kittos lack not for enrichment — or perches from which to cast judgement on you!
Founded in 2004, the sanctuary's initial efforts focused on "sterilizing Lanai's street cats" — no small challenge in a place without a veterinarian — and reducing their impact on the island's bird population. Early rescues were sheltered at a horse stable, but a more permanent solution was needed. Five years later, the organization was formally established as a nonprofit and relocated to its current home, about a mile west of the island's airport.
While the spot currently lacks electricity, donations have enabled the sanctuary to purchase a high-tech mobile veterinary clinic and fly doctors from Oahu for monthly checkups. (The sanctuary is open free of charge to all visitors, who typically number between 10-80 daily, so charitable contributions are essential to its continued operation and growth.) Before they are introduced to the general population, all new rescues pass through a battery of tests to ensure they are healthy.
From there, they are vaccinated, chipped, and given a name if they don't already have one.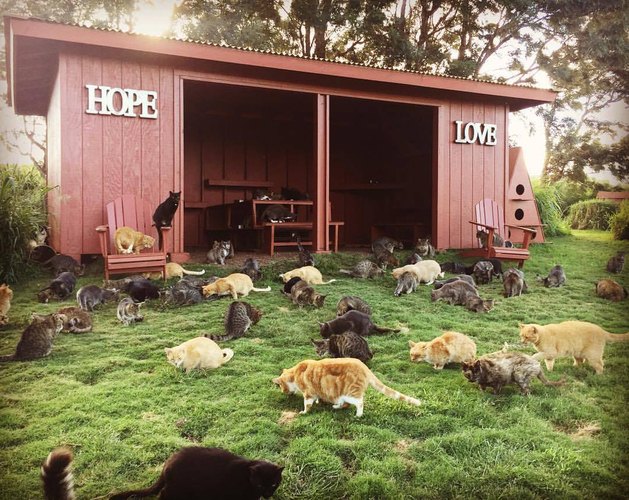 The sanctuary's overarching ambition is to someday eliminate cat overpopulation on Lanai, a truly noble endeavor. And it's one that is winning the group a devoted following on social media, where it recently passed 20,000 followers on its delightful Facebook page.
After ninety minutes or so of interacting with the floofs, it was — sadly — time to hop back in the van and return to the harbor, but not before snapping a final shot of one of my new besties, a sweet tuxedo kitty chilling like a villain in a shady spot near the exit.
Before you go, here are things to know:
✔️ Their website is a great resource
✔️ Entry is free but donations are strongly encouraged
✔️ Great for kids and families but human amenities are limited, so pack your own snacks and water
✔️ Cell service can be spotty
✔️ There's no Uber or Lyft on the island