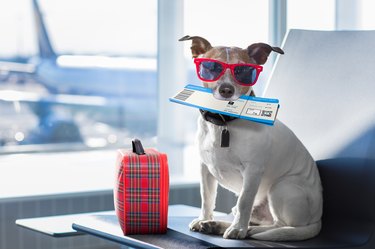 ​The holiday season — aka travel armageddon — is nearly upon us. Minimize the hassles this year with our handy checklist of everything you'll need to make the experience less stressful for both you and your four-legged companion.​
A record number of Americans traveled 50 or more miles during the 2017 holiday season, and the trend shows no signs of stopping in 2018.
Though it's unknown just how many of these humans will be accompanied by animals, the vast majority of travelers, roughly 45 million, will pile into automobiles and motor onto the nation's roadways, while the remainder will take to the skies, rails, or waterways.
​No matter what means of transportation you opt for, you'll want to troubleshoot any potential problems in advance.​ To help you pack accordingly, here are the must-have items you and your pet will need for the journey ahead.
At the very least, you'll want the following:
Reflective leash

Collar

Bowls

Food

Water

Snacks

Disposable waste bags

Reflective leash (or cat harness), collar, bowls, food, water, snacks, and disposable waste bags that can be sealed or tied off. Because you'll never want to run out of the latter, err on the side of caution and budget at least five for every day of your trip.
And just as you'll have a suitcase for your luggage, you'll want to sort all of your pet's items into a bag of their own.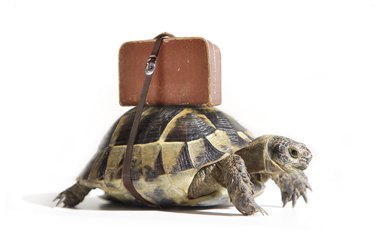 ​Be it metal, plastic, or even something bespoke like wood, you'll want ID tags that can be securely fastened to your pet's collar.​ And while your cat or dog likely already has such a tag engraved with all the pertinent info — his or her name, home address, phone number, email, etc ... — it might be worth it to engrave the same for your destination on the flip side (or at the least, a handwritten note that can be tapped to it).
Should you get separated somewhere along the way, this will make it easier for the two of you to be reunited.
Sure you likely have dozens — or, okay, hundreds — of adorable pics on your smartphone already, but having a physical photo to share with strangers, police officers, or transit officials can expedite any sort of search and recovery.
​Remember, hope for the best, but plan for the worst.​
From hard shell crates to bags with collapsible panels and those bubble backpacks that make cats look like furry astronauts, there's no shortage of pet carriers available on the market today.
​Depending on the measurements of your cat or dog, the best models are also sized to slide right under the seat in front of you.​
✔️ Vaccination Records & Health Certificate
If time changes are involved in your itinerary, it might be hard to contact your vet or renew prescriptions, so like pictures, you'll want two copies — one physical, the other digital — of their vaccination and health records on hand and easily accessible.
Apps like VetsPlusMore, which we've profiled on this site previously, can be used to bring all of this info under one umbrella with just a few swipes and clicks.
A​nd if you're taking your pet across state or international borders, a health certificate as well as other documentation will almost certainly be required, which is something you'll need to discuss further with your animal's doctor.​
Are you going to be spending time outdoors on the beach or trails? If so, bring a towel that you can use to wipe your dogs' paws clean before they track a bunch of mud and dirt into your hotel room or cute little Airbnb.
The cleaners will thank you for it!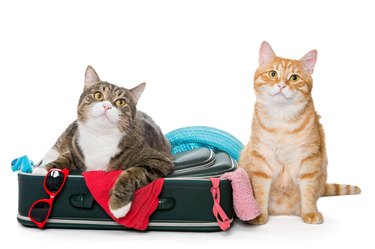 Just like humans, floofs can be stressed by new environments or settings. ​Ease any such anxiety with one of their favorite chew toys, stuffed animals, or bouncy balls.​
Are you going somewhere cold or inclement with conditions your pets aren't necessarily accustomed to? Be sure to include an extra layer of warmth to keep them dry and cozy, especially if they have a short coat.
​Bonus points: Your Instagrams will look extra cute with their snazzy duds!​
New sights, sounds, and smells can overstimulate any animal — and fast! At worst, they might have a panic attack and at best, they could just be homesick.
Hedge against fits of pacing or barking with one of the anti-anxiety and calming meds recommended here.
​Have you adventured with your pets previously? Share your tips and travel hacks in the comments below!​