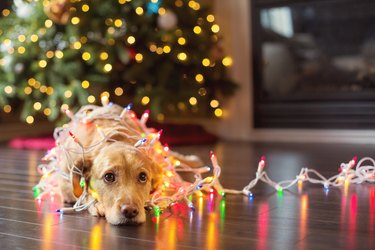 According to a new survey conducted by PricewaterhouseCoopers (PwC), the average American will spend $661 on holiday gifts in 2017, an increase of 6 percent from last year. And of that figure, the auditing firm reports that $71 will be lavished upon the pets we share our homes with.
Driving this growth are Gen Zers (17-21), urban dwellers, and millennial dads, three key demographic blocs that we already know are fundamentally reshaping the relationship between humans and animals.
But even if you fall outside one of these coveted constituencies, you probably still want to score the most bang for your Christmas buck.
Enter Cuteness' Black Friday shopping guide, which collects the best pet-related deals from around the web. We've done the legwork so you don't have too!
Amazon
Let's start, like so many do, with the biggest fish in the ecommerce koi pond, Amazon.
Petco
If you're the type that prefers to shop in person on the day after Thanksgiving, Petco has a bevy of fun specials for early birds.
Standouts that piqued our interest include mystery gift "scratchers" for the first 25 guests at each store, free holiday antlers for cats and dogs (with any purchase, think of the potential Instagrams!), BOGO deals on food, and 50 percent off select cat trees and furniture.
PetSmart
Not to be outdone by its rival, PetSmart is marketing some awesome Black Friday doorbusters between 7a.m. and noon.
Highlights include steep, 50 percent markdowns on Ellen DeGeneres' line of dog apparel (a brand exclusive to the chain), Top Paw dog crates, and select Drinkwell fountains!
Ollie
A buzzy new startup in the pet food space, Ollie creates custom recipes and portions for dogs using data points such as age, weight, breed, and more.
While an email to their Facebook account was returned with only an automated-ish response that revealed nothing about Black Friday or Cyber Monday promotions, the site is offering an introductory trial that shaves 50 percent off the price of your dog's first box of eats.
Chewy
Also a startup in the pet food space, Chewy.com promises only the "best brands," fast shipping, and hassle-free returns.
While the site wasn't prepared to unveil details of its Black Friday bonanza just yet, its social media team urged shoppers — in a Facebook message — to return over the weekend for a rotating selection of deals: "Our Black Friday weekend will have a flash sales for those days and we won't be able to give an exact description of what sales they will be during the weekend."
Ruffwear
Got an adventure pup? Ruffwear is an Oregon-based company that develops rugged, "trail tested" boots, coats, harnesses, life jackets, backpacks, and related products specifically for dogs that love traipsing through the great outdoors.
Following the lead of REI, the company gives its employees (and four-legged R&D team) Black Friday off (as explained in this call to "Opt Outside" <ahref="https: blog.ruffwear.com="" 2017="" 11="" 01="" dogs-will-always-opt-outside="" "=""> </ahref="https:>on its blog), but its ecommerce arm will return with a vengeance on Cyber Monday (November 27) with a 25 percent site-wide sale that can be activated with coupon code CYBER-MONDAY-2017.
BarkBox
Finally, we've partnered with BarkBox, a monthly subscription service, on a special, "Cyber Muttday" promotion — we see what you did there, Barkbox! — reserved just for Cuteness readers: A measly 5-spot gets you (well, your dog) a box of toys, treats, and goodies valued at a whopping $40!
"We'll take 12" — your floof, probably.
And remember, lest your ungrateful cats ghost their holiday prezzies like a bad Tinder match, you can always just gift them what they desire most: a heap of discarded wrapping paper and the empty boxes said gifts arrived in. 😉
Did we miss you favorite Black Friday or Cyber Monday deal for pets and animals? Share it with us in the comments below!