Got a big, busy, furry family? Many pet parents have multiple pets enrolled in pet insurance, from dynamic duos of Siamese cats to a trio of troublesome Labs (one in each color).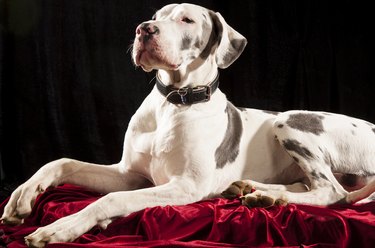 One of the Healthy Paws customers enrolled two dogs: a Great Dane named Tank and a basset hound named Chubbers. Sweet but playful Chubbers has stayed true to his name — he's clocked in two foreign body obstruction surgeries totaling around $12,000 — however, it's his BFF Tank, who has really been through the ringer.
Born in 2013, Tank was enrolled with Healthy Paws and soon after had two neurosurgeries, a broken tail that suffered from an infection and subsequently, amputation, as well as removal of his anal glands and other ailments that have all required medical treatment. While he recovered from each surgery very well, pet parent John explains that these emergencies "were heartbreaking and very stressful."
At only 4 months old, John noticed that Tank was having a hard time walking, specifically with his back legs. The vet had the following diagnosis: Tank's spinal cord was compressed in the vertebrae in his neck, consistent with Cervical Spondylomyelopathy (CSM), or Wobbler Syndrome — a disease commonly seen in large and giant-breed dogs. It's a condition usually in the neck, and the casual term "Wobbler Syndrome" is from the way a dog will walk when affected by the disease.
"We went in for surgery and it worked. But after Tank grew from a little puppy into his much bigger self, gaining 80 pounds., he had the same issues, so we had a repeat surgery. Again, it was successful," John explains. But after recovery, Tank's back legs showed the symptoms once again, so they got a MRI. The scans showed residual damage from the first instance of the disease. John and his family were stricken with concern. What could they do to help Tank's quality of life?
Helping Tank would require constant management and care, and it wasn't going to be easy or inexpensive — so they started chiropractic care and discovered laser therapy. They also began a regimen of acupuncture and daily medicines to help with Tank's spinal fluid, some of which are over-the-counter and others that are prescription only, and covered by their Healthy Paws plan.
"He's not agile like the other Great Danes at the dog park, but we're out there every day and he's doing great," says John. "He's just the best dog you could imagine! He's incredibly loyal and follows me everywhere. We would do anything for him."
As Tank healed, he and his partner-in-crime, Chubbers, got back to their old tricks.
"The surgeries on both Tank and Chubbers have been incredibly expensive but Healthy Paws has never challenged one penny of any bill. [We often feel like] insurance companies in human medical care are not this easy to deal with, nor this prompt with payment," John says. "The claims have always been paid within a week of filing. We tell our friends that to avoid any preexisting condition exclusions, get the policy as soon as you bring your puppy home." Healthy Paws reimbursed John a total of $39,085 for Tank's claims that equaled $44,539, and $10,797 for Chubbers, whose claims were $12,446.
Over the years, our pets go through birthdays, obedience school, moving cross-country (or just down the block), and then, some pups, like Tank, go through it all — emergencies, chronic conditions and accidental scares. For those pets, pet insurance can be life changing. Find out how to protect your pet and be prepared for the unexpected by getting a free quote.