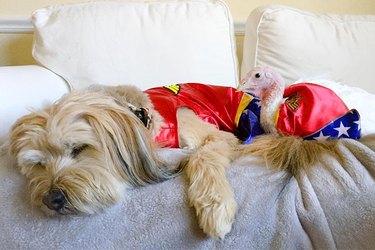 If what you declared you're thankful for this year is adorable-but-unexpected animal friendships, then buckle in because we have another amazing one for you: Blossom the rescue turkey and her dog BFF, Minnow.
Both animals live in Virginia with an amazing human named Abbie Hubbard, who works as the deputy director of the Animal Welfare League of Alexandria.
She rescued Blossom from a slaughterhouse when she was five weeks old, according to Today.
She rescued Minnow too because she's a lifelong animal lover with a heart of gold.
Now, Minnow and Blossom do everything together.
They cuddle together.
They dressed up for Halloween together.
They're the best of friends, and it's beautiful.
Minnow and Blossom forever.