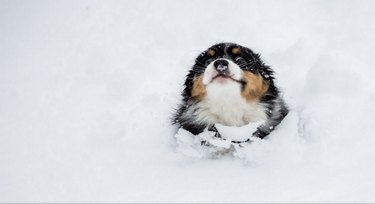 2017 has been a really weird year with lots of polarizing headlines.
But I'm happy to report that the Content Gods have blessed us today with something we can all agree is pure and uncorrupted: Dog's first snowfall!
A viral video of just that comes to us from York, England, a city of roughly 208,000 located about 2 hours south of London by car, and it will thaw even the coldest of hearts. (Hover over to play.)
Published to Twitter earlier today, the charming spot quickly surged to the top of the platform's Moments tab, where as of this moment, it has accrued more than 22,000+ "Likes" and another 69,000+ "Retweets" (nice!).
Here's a pic of this very good boy when he's not splitting snowflakes.
Providing a welcome (if fleeting) diversion from a steady drumbeat of ominous developments this week, the tender dash definitely stirred some feels on the microblogging platform.
"I needed this", enthused a star columnist with The Guardian.
"I can't stop watching this. In a world that is a dumpster fire, this is a 25 second oasis. Thank you," raved a second.
"Dogs may be the thing that's keeping us from sliding into the void", opined this man, an best-selling author.
While most were quick to lavish breathless praise on the handsome pup (as one does), others opted for a more creative tact, stepping into his paws and giving voice to his borks:
"'OH MY GOD! OH MY GOD! WHAT IS THIS?! ITS BRILLIANT! LOOK! UP THIS WAY!!! OH! BUT ITS BRILLIANT UP THIS WAY TOO!! ARRGH! OH MY GOD EVERYTHING IS BRILLIANT!! I DONT KNOW WHAT THIS IS BUT ITS BLOODY BRILLIANT !!!'"
"'I MUST TELL EVERYONE ABOUT THIS AT ONCE!'"
As the day passed, the 25-second video continued to surface at progressively bigger U.K. media outlets, which prompted viewers, in turn, to share images of their doggos in a similar state of unfettered excitement, tearing around as if the turbo button on the joystick was permanently glued to the "on" position.
It was, as the internet truism goes, a relatable AF moment.
Still, like all good things, this one drew to a close, innocence forever lost, crushed by the unstoppable twin boulders of age and experience.
"He's sulking with me now because I made him come back inside", lamented Truffle's human mom. 😂 😂 😂
But lest we leave you on a sad face down note, here are some pics of Truffle living his best life.
For mohr of his antics, follow Truffle at Twitter.