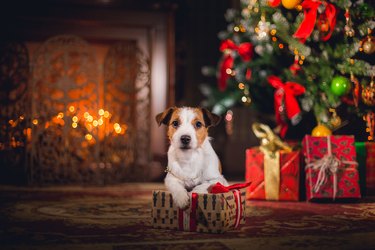 In order to give all the wonderful presents that are expected at Christmas, someone has got to go get them! And who better to play a game of festive fetch than your perfect pup?
The trending Twitter hashtag #IfDogsDidTheXmasShopping questioned just how ruff it might get if our dogs were in charge of Christmas gifts, and animal lovers all around the globe chimed in that it would be equal parts both slobbery and sensational.
People's word play choices were on 🔥 🔥 🔥
"they'd sniff out a good bargain"
And probably find only the best with their keen sense of smell.
"they'd stop by Starbucks and order a Pugkin spice latte"
Everyone needs a pick-me-up while scouring the mall.
"Credit card bills would go through the woof."
They'd have to bone up on financial knowledge to recover their credit score.
"They'd have a lot of shopping wags"
But at least they'd have four paws to carry all their stuff.
"it would give them a new leash on life."
It would be a real change in paw-spective.
And these dog lovers were totally barking up a perfect puppy pun tree.
"Bark Friday"
"The mall barking lot would be packed"
"They would buy a lot of peppermint bark."
Some people posited that pups would be pretty practical about their presents.
"Bones for everyone!"
And they'd, of course, have their own way of dealing with all the headache that goes into holiday shopping.
"I would sit back and let him deal with traffic."
Road rage just got way cuter.
"... brrrr too cold to go out , online it is then x"
Gift idea: Ergonomic keyboard for creatures with claws and no opposable thumb.
"All presents would be licked instead of wrapped."
At least all the cards would be properly sealed.
"they might need a little help with the presents on the higher shelves."
These critters are always happy to give a leg up.
They'd obviously want praise for their efforts.
"they'd make it clear to us 'Who's been a good boy?'"
There is a very simple solution to getting everyone something they'd love.
"puppies for everyone!"
And if all else fails, they can always call in reinforcements.
"They'd just write their shopping list to Santa"
Of course, if our canine companions were in charge of Christmas presents, there's only one guarantee...
"the cats would be disappointed"