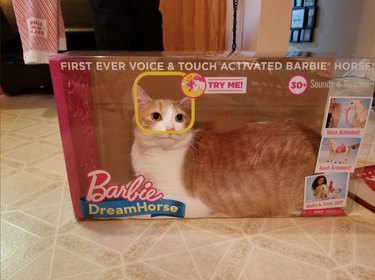 Don't look a (Trojan cat) gift horse in the mouth.
That's the mixed metaphor takeaway (just work with me here, alright?) from a hilarious thread that trended over the holidays.
It comes to us from Twitter — SHOCKING, I know — and the account of Liz Finnegan,  a marketing professional with Muse Games.
On the morning of Christmas, the Philadelphia woman found her family's adorable kitteh chilling in a Barbie DreamHorse box after it had been emptied of its contents in a gift-opening frenzy.
Even better: The calico's head was aligned perfectly with the "Try Me" opening on the front.
Naturally, Finnegan did what most of us would do when blessed by the Content Gods with such serendipity: She took to the microblogging platform and shared a photoset of the loaf-like shorthair with her 38,000+ followers.
"Wtf where is my horse," she captioned the post.
The ridiculous snaps promptly set off a stampede of cat & horse jokes, with respondents jockeying for faves, shares, and comments (a/k/a the Twitter trifecta) on her timeline.
"What we need is a cat that IS a horse," quipped one woman.
"My dream horse is a cat. Check your privilege,"  sheeshed this man.
Finding it relatable AF, some uploaded images of their own felines easing into discarded packages (because you can lead a cat to a box but you can't make them sit if they don't fit).
Others raced to fast-track topical GIFs. (Click play to watch.)
For what it's worth, the cat (whose name remains unknown) is a regular fixture on Finnegan's feed; You might even say he's ... wait for it ... her mane squeeze (sozzy, not sozzy).
"I've never seen him want something more". 😂 😂 😂
"I'm going to die here".
Welp, this is a front runner for cutest tweet ever. Snugs!
If anyone needs me, I'll be building a pile of empty of boxes for my roommate's cat to bed down in.
Did you find your kitto co-opting a prezzie box over the holidays? Share your story in the comments below!