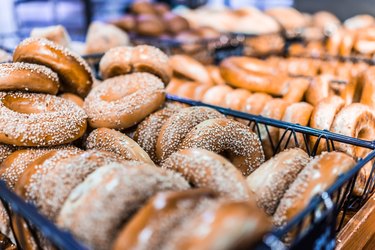 An Einstein Bagel employee named Natasha is our new Instagram hero. She has created an entire Instagram account dedicated to the dogs she sees at the drive-thru and it is GOOD.
"I work the drive thru at Einstein Bros Bagels on Wickham road in Melbourne, Florida!," she wrote in her bio. "Stop by with your best friend and have a doggie bagel on me!"
Apparently, Einstein offers special beef-flavored doggie bagels just for man's best friend and Natasha would like more people to take advantage of the offer.
Bagels are good. Dogs are great. Bagel-loving doggos are BEST. Here are just some of our favorite drive-thru dogs.
Keep up the good work, Natasha.