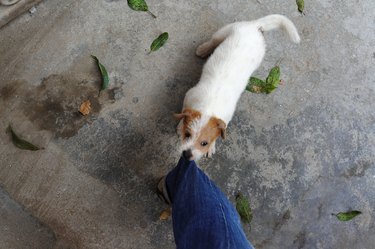 Attentive cute spotters might recall this silly slice of infographic ephemera that, according to the internet historians at Know Your Meme, first surfaced on the web in 2015.
Both hilarious and polarizing, the image achieved true viral saturation — appearing everywhere from Reddit's r/funny to, ahem, The Today Show — and prompted a wave of jokes, theories, spinoffs, and parodies.
Like such.
And while the meme has largely receded into the background since it streaked across computer screens everywhere, the debate rages on.
BEHOLD THE PICTURE EMBEDDED BELOW FOR IT REVEALS THE WAY DOGS WEAR PANTS IN REAL LIFE. BE THEM TROUSERS, SLACKS, OR BRITCHES, THIS IS THE ONLY OBJECTIVELY TRUE ANSWER.
Sure, nitpickers might argue that the garter & stockings construction aren't technically "pants." But those people are dopey sock apologists, and they'd be wrong.
If you love dogs, you should probably go join — or weigh in with your opinion — just as soon as you finish reading this article. But before you do, let the glorious snap wash over your eyes one last time.
Case. Officially. Closed. (Don't @ us, Fashion Police.)