By the time Dirk Morgan, his partner Lori, and two other tourists stepped onto a Costa Rican beach Monday morning, high tide had already receded.
Not seeing anyone else, the group figured they were alone — and with good reason: They were on a remote patch of the Oso Peninsula, a destination off the radar of most visitors to the Central American country.
But as the quartet inched their way across the sandy shoreline, they were shocked to encounter a baby sloth, crying, unchaperoned, and clinging to a rock exposed by the low water level.
"Lucky day for this little guy we found on the beach this morning before something got to him. A young 2 toe sloth that survived the high tide," the Morgans captioned a photoset uploaded to the Facebook page for Morgan's Jungle Lodge, the surf hostel they've owned and operated for three decades.
When a hasty, impromptu search failed to turn up the helpless critter's mother anywhere nearby, they knew they had to step in, especially because wild dogs had been spotted running free earlier (likely good boys, just ones that need a bit of love and socialization).
So Dirk reached for a box, lined it with a towel, and carried the adorable slowpoke — whose species is more typically found high in the jungle treetops — to safety.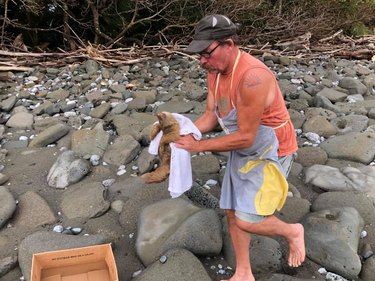 "We rinsed the salt water off its face and took to the animal rescue at Tranquility. He seemed to be fine and happy to be dried off and safe," they added.
How the animal ended up in the wash remains unknown, but according to a report from Cincinnati.com, it will mend for a bit under the watchful eye of a local shelter before eventually releasing back into the wild.
You can see more of the baby sloth in the video embedded below, but take caution because the little squeaks will kill you dead from cuteness overload.
Good on the Morgans and their friends for making the effort to help those around them who can't fend for themselves. Not all heroes, as the internet truism goes, wear capes!