Only read this post about dogs on Tumblr if you are prepared to LOL.
1. "I AM HUGGING YOU BECAUSE I LOVE YOU ALSO SOMEONE ATE ONE OF YOUR SHOES BUT THIS IS NOT ABOUT THAT."
2. "Day 42: I have infiltrated their ranks and gained their trust."
3. "What a weird piano."
4. "The iron isn't even plugged in."
5. "Clearly someone forgot how to dog…so he potato'd instead."
6. "The one on the right looks so upset about this development."
7. "Hello fellow regular kids whats up?"
8. "She thought she was jumping into water. Regrets ensued."
9. "She's waiting for the salsa."
10. "This truly scared me I thought the legs on the right were some crispy burnt up human legs i need a minute to breathe."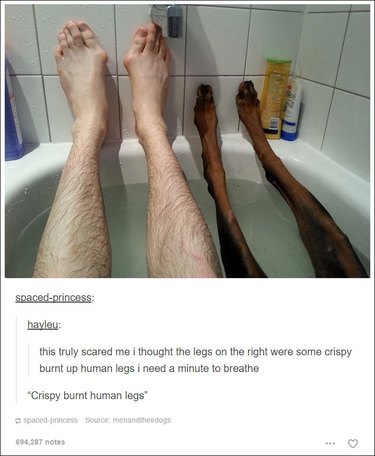 11. "Googled 'dog swearing' and wasn't disappointed."
12. "When you feel seaweed brush against your leg."
13. "Your dog is melting and you just stand taking pictures absolutely disgusting."
14. "Friend gave her dog an empty peanut butter jar last night and he shared it with his stuffed puppy."
15. [muffled meeting behind door] "You may enter."
16. "Ma'am, I'm doing everything I can."
17. "I was taking pictures of the new puppy ... when i look out the window to see the older dog just ..."
18. "This dog is about to impart some sick-ass wisdom while still maintaining street cred."
19. "I can see my house from up here."
20. "Thought I was looking at some surreal art for a second there."
21. "I'll see you in hell you mailman POS."
22. "His face just says 'what am i going to do with my life now?'"
Did we miss your favorite Tumblr post about dogs? Share it with us in the comment section below!