In an average year, about 40 million low- or no-income Americans rely on a federal safety net, the Supplemental Nutrition Assistance Program (SNAP), commonly known as food stamps, to stave off hunger and meet their nutritional needs.
Since 1964, when the program was first enacted by Congress, recipients have been prohibited from using those funds to purchase food for their pets, but a new petition seeks to change that.
Writing at Care2, a social network for activists, organizer Edward B Johnson Jr argues that this small but important reform could benefit families, pets, and the communities in which they live.
"Unfortunately, SNAP benefits cannot be used to buy pet food, leaving poor families with pets in a difficult position. I am one of those Americans. I have only been on SNAP benefits for a few months, but I have been unable to feed my little dog due to government regulations.
Some argue that people should not keep pets if they cannot afford them, but the fact is that an individual or family's financial status can change at any time. Should someone be forced to give up a pet they've had for years just because they hit a financial rough patch? Or should they be able to utilize federal aid to continue feeding their pet?
Pets are also important for emotional support. Being poor is hard enough without being expected to give up your companion. For most people, pets are considered family, not property.
Please sign this petition, and together let's urge the USDA to expand SNAP benefits to include pet food."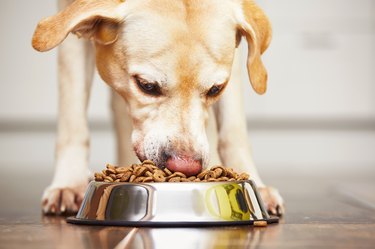 And it seems that others agree with Johnson: 160,000+ individuals have added their signatures to the now-viral petition since it was published in January (more than double his original goal!).
While experts say it is unlikely that Congress will take up the issue anytime soon (and Republicans, in fact, have been threatening to restrict program eligibility at both the federal and state levels for several years now), Johnson's online advocacy has kickstarted a larger conversation around the issue.
Animal welfare organizations have rallied their support behind the cause because the alternative — doing nothing — is worse and leads to things like poor diet (pet owners inevitably share their people food, which is bad for both parties), animal abandonment and re-homing, overcrowded shelters, a drain on municipal taxes due to the cost of rounding up and housing strays, a spike in the number of animal euthanizations, and a dip in the quality of life (we know, for instance, that pet ownership leads to healthier, happier, and longer lives and helps bond families together through adversity).
In an interview with The Washington Post, Matt Bershadker, the president of the American Society for the Prevention of Cruelty to Animals, praised the potential reforms:
"It's potentially game-changing," said "I think we should get behind this in a big way."
To lend your support or read more about the issue, bounce on over to Edward's petition by clicking here.