When Callie Schenker and husband, Bob, arrived at their Bolivar, Missouri home one evening, the couple made an astonishing discovery. Their miniature horse, Cricket, was giving a pony ride to the neighbor's dog.
"I'm lucky I even got the video because my phone was nearly dead," Schenker wrote in the forever famous Facebook post. "Also, the dog is my neighbors. He randomly shows up. I guess I just caught him riding my people at the perfect time!"
The ensuing Facebook post is 🔥 🔥 🔥 — because isn't this the sort of thing the social web was made for? — collecting nearly a 1,000 shares and over 64,000 likes. It even achieved the most coveted recognition any purveyor of premium viral content can hope for: a segment on a morning show. In this happy ending, Good Morning America.
We here at Cuteness HQ think the attention is deserved. Just look at how cute this tiny, one-eyed pony is.
Somebody get this cutie a glass of water because she's a little hoarse!
Hay, there!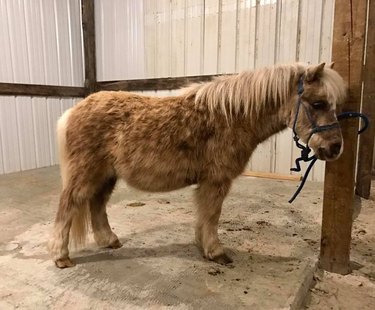 Watch the entire clip below, and then head over to the short horse's newly-minted Facebook page, Cricket and Pals, for more laughs!