Losing a pet is devastating and coping with that loss is never easy, no matter how old you are or how much you saw it coming. When Lucie Dunne and her family lost their beloved Charlie, they found support and comfort from an unlikely place—from a child in Lucie's mother's class.
The little boy, Callum, left Mrs. Dunne a card with a poem he wrote for Charlie. "Sorry if you don't like it or it makes you emotional," he wrote on the front. Warning: It will make you emotional. Here's the card in full, if you need a good cry: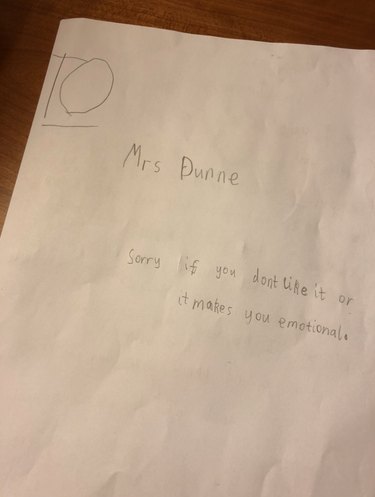 Lucie also shared more about Charlie on Instagram, including videos that show what a wonderful dog he truly was.
"Never thought for a second I'd have to say goodbye this soon - only had you in my life for 18 short months but it's not made it the slightest bit easier to let you go ☹️ The most special dog in the entire world, I'll love and remember you forever Charlie 💔💘 Heart is broken but here r some of his cutest lil moments, being the adorable pup he was right up until the end 🐶✨ Rest easy Chunk 💖," she wrote.
Lucie has been documenting Charlie's time with the family on Instagram for years, beginning with pictures of him as a puppy.
RIP, Charlie. You'll be missed.