When her owner recently passed away, a 4-year-old Labrador named Regan was relocated to a shelter in Lebanon, Tennessee. And like most pups thrust unexpectedly into a stressful environment, she displayed signs of nervousness.
Enter a local woman, Kim Mozena Rezac, who was determined to put the new arrival at ease. In an interview with The Today Show, the 51-year-old animal welfare activist revealed that she spent three days slowly building a bond with those old standbys: scratches and snacks.
"You could tell she was scared and afraid. I would go in and give her treats and sit with her and talk."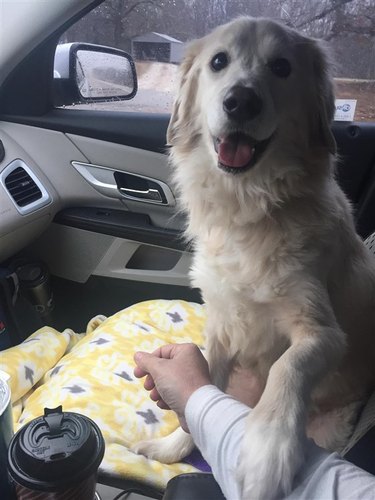 Regan quickly came around to Rezac's efforts, rewarding her with a steady stream of tail wags — wags that weren't extended to any of the other employees or volunteers. Still, even with this progress, the sight of the dog cooped up in a cage was heartbreaking:
"I hated for her to be there if she could be curled up on a couch at my house."
So Rezac took it upon herself to foster the good girl until a more permanent home could be arranged.
Into Rezac's car the duo went.
But as they were leaving the parking lot, something amazing happened: Regan extended her paw to the woman's hand and there it stayed for the duration of the their 2-and-a-half-hour journey.
Rezac captured the touching gesture in a short video that she subsequently posted to Facebook — and from there it promptly viraled out to the tune of 3.3 million views and 87,000+ shares.
Even better: A huge number of folks offered to adopt the lady lab and after two days at Rezac's, Regan was placed with a new family, where's she said to be thriving.
Watch the sob-inducing reaction in its entirety below:
It's enough to make us the think the world isn't a total dumpster fire (I MEAN, HONESTLY, WHAT DID WE EVER DO TO DESERVE DOGS), but it also shines light on a not altogether uncommon dilemma: Where would your pets be go if you were to die unexpectedly?
However somber an exercise, it's good to try and gameplan a solution in advance because, as family members, they deserve nothing less.