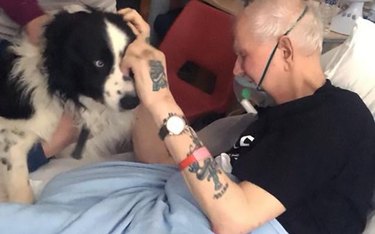 Pull the tissues close because this next story will clock you right in the feels.
According to BBC News, Peter Robson, a 70-year-old man with a terminal diagnosis, had one final, but unlikely request: To say goodbye to his beloved dog.
Though animals are generally prohibited from entering hospitals on account of infections and disease control, nurses at Ninewells Hospital in Dundee, Scotland made an exception for the bedridden patient and his pup, an 8-year-old border collie named Shep.
Due to the urgency of the situation, family members promptly fetched this goodest of good boys, who Robson had adopted as a puppy after his wife had passed in 2010 (I told you to keep the Kleenex close!).
Upon their return, they were ushered into Robson's private room, where these longtime companions were reunited for 20 minutes of pets, hugs, scratchies, and, yes, lots of tears.
The touching scene was documented by Robson's granddaughter, Ashley, who posted video and images on her personal Facebook page, along with a heartfelt caption expressing the family's immense gratitude.
"Absolutely amazed and touched today from NHS ninewells hospital, our grandads last and final wish was to see his dog one more time. Still in shock that the wish was granted and they went above and beyond today and made a dying man very happy. Cheryl Whyte charge nurse of Ward 3 you are an absolute angel and we are all eternally grateful you don't know what this meant to our grandad.
I'll let these moments do the talking, thank you NHS♥️♥️♥️ Please share this everyone needs to know what amazing nurses and staff they have in that hospital."
As word of the hospital's gracious gesture started to spread virally, others in the Dundee community, including a local groomer, rallied to the family's side and ease Robson's passage over the rainbow bridge.
"My grandad had requested we try to get Shep groomed for the funeral as he hadn't managed to get him groomed in quite a while with being ill.
House of Howlers are very busy and Shauni squeezed us in to make sure my grandads wish was met.
Shep will be at the funeral and Shauni has kindly gave us a black bow tie for him to wear
😢
😢
😢
She has given us such a kind and caring service in this difficult time by offering her services for free."
Speaking with the media, an executive with Ninewells had this to say about the staffers' decision to permit Shep into the facility: "It is often the little things that mean the most to patients and their families and I'm so pleased that the staff were able to grant this wish."