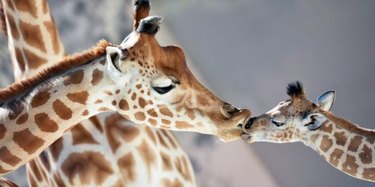 Let's wind the clock back to the halcyon days of 2017: Bitcoin, fidget spinners, solar eclipses, the distracted boyfriend meme, and Black Panther were all the rage.
But substantial as those headline-generating trends were, they were obscured — on the Cute Side Of The Internet™ at least — by a pair of giraffes, mother April and son Tajiri, who were housed at a zoo in upstate New York.
After an extended pregnancy complete with numerous false alarms, mom finally welcomed her offspring into the world on (fittingly enough) April 15th, much to the relief of fans online who had followed intently along via a custom "Giraffe Cam" installed in her pen.
When the dust had cleared, the adorable duo achieved total viral and mass media saturation, spawned a raft of related memes, and racked up more than 232 million views on YouTube.
While some of the buzz around the spotted family has ebbed in 2018, their handlers at Action Adventure Park are gearing up to celebrate Taj's first birthday, which falls this weekend on Sunday.
According to published reports and posts on social media, zookeepers will fete the birthday boy, who has sprouted to a height of about 10 feet, with a (safe for giraffes) cake, "enrichment items," and additional, but unspecified "treats."
Naturally, both mom and dad, Oliver, are expected to be in attendance, keeping a loving eye on their beautiful long boi.
Even better, fans at home are encouraged to stream the proceedings and share their own congratulations.
Here's hoping the trio has many more birthdays to celebrate in the years to come!