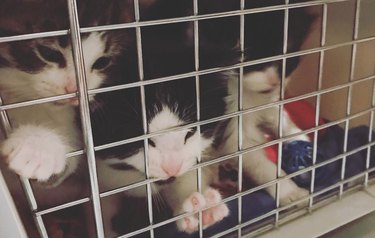 The internet loves two things: (A) Cats and (B) challenges.
So it shouldn't be too surprising that someone would roll both into a successful crowdsourcing campaign. But what was unexpected was that "someone" would be a police department in Troy, a suburb of 83,000 located 25 miles north of Detroit.
Writing on Twitter in March, the department's social media team revealed that they would add a four-legged recruit to its squad — but only if an elusive goal was met.
"Trying to broker this deal now: If we get 10,000 followers by April, we want a police cat. If you support this important public safety initiative, follow us & RT#BigGoals #PoliceCatAssociationofAmerica"
It didn't take long for the desired result to materialize: Less than two weeks after its initial call to action, the force hit the five-figure benchmark.
True to his word, the police chief acceded to his team's request and in partnership with the Michigan Humane Society, potential hires — five kittens and a 1-year-old rescue named Cagney — were introduced earlier in the month to members of the local media.
PUNS INCOMING, I REPEAT PUNS INCOMING. (Hover over to play.)
While the winning cat has yet to be announced, officials said more details — including a contest to name the new officer (of-furrr-cer?) — would be teased out shortly.
They also stressed that kitty won't actually live at the station, but instead at the home of its designated handler (as members of the department's K9 unit do).
"Happy Caturday! Rest assured - #PoliceCat will be on duty soon! Our kitten needs to get a little bigger before coming home."
If the idea of using cats to curb crime might sound ridiculous, the initiative is part of a larger effort to engage the public and "humanize the badge." And the hello-fellow-teens strategy seems to be working!
Befitting from its robust new following, the department's social media game is pretty strong, channeling memes, hashtags, and tuffs of pop culture into a clever, woe-is-dog mix.
Check out of the some department's previous tweets anchored around the #policecat hashtag below!
"When it comes to undercover operations, the skills of the cat are unrivaled." (Police Cat Association of America, 2018) #WeWantAPoliceCat
"How we celebrate #NationalPuppyDay... #PoliceCat"
"Flashback 1987 to Troy's first #PoliceCat. This mountain lion found roaming was safely captured and turned over to the Detroit zoo."
Is this the start of a larger trend of cats clawing their way to the top of the law enforcement community?
Judging by this tweet from the Toledo Police Deparment, it might just be ....