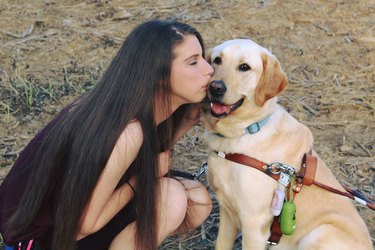 Even guide dogs — selected, trained, and celebrated for their intense loyalty to the vision-impaired humans they serve — will stray from their responsibilities from time to time.
That's the hilarious takeaway from a trending video in which Thai, a clever golden retriever, shamelessly leads his 20-year-old human charge, Danielle Sykora, towards a source of treats at a pet supply store called the Cool Dog Shop (you can't make this stuff up 🤷) in a suburban New Jersey mall.
Peep it below!
Folks on the microblogging platform can't seem to get enough of it: In less than a week, the 11-second clip has been viewed more than 7 million times before spilling over to the social web.
Writing on Twitter, Danielle's older sister, Michele, revealed that Thai's wandering ways wasn't actually new:
"My sisters guide dog always sneakily walks her into this store without her knowing 😂😍 I love dogs, man"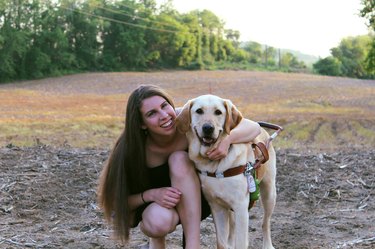 In an interview with The Dodo, the elder Sykora dished on Thai's now known motives and explained how their father was the first to decode his meandering flight path:
"The first time my sister ever went to this mall, she was with my dad and Thai just veered right into the store without her knowing .... The second time we went back there, I wanted to witness it for myself, so we walked in the direction of the pet store and of course he walked right in there again!"
Back on Twitter, Thai was properly feted as the very good boy he obviously is.
"what a legendary dog," opined one man.
"This the cutest shit I've ever seen I'm crying," sobbed a second commenter.
Naturally, some takes focused on the store's handle, because, duh.
"i can't believe this real store called "COOL DOG GEAR" in comic sans exists out there somewhere," exclaimed this man.
Others with guide doggos of their own found it all very relatable.
"My service dog does silly things like this sometimes! He fakes alerts so he can get treats 🙄" shared this woman.
"Haha classic guide dog behaviour! Lyric always tries to walk me to the park," added another.
But lest you think Thai doesn't have Danielle's best interests at heart, think again says her fam:
"Thai and Danielle have a relationship only a person with a service dog could ever understand. He is her eyes. He goes with her absolutely everywhere .... Even when Thai isn't working and we are home, if she leaves the room he will get up and follow her everywhere."
Never change, Thai, never change.