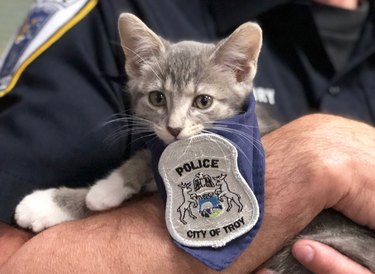 Today in very important follow-ups: A kitten was sworn in as the newest member of the police department in Troy, Michigan, late last week.
Dubbed Pawfficer Donut, the 4-month-old feline bested out other candidate vying for the coveted role after passing a battery of aptitude tests to measure his ability to fight crime and look adorable while doing it.
See, important, stop-what-your-doing-and-look-at-this-right-meow kind of stuff:
According to mlive, Pawfficer Donut took an oath to purrtect and serve (I hear you groaning — STOP) in front of two local judges, other members of the department, and Chief Gary Mayer.
Attentive readers of this here site (and those who otherwise spend their time on the cute side of the interwebs) will no doubt recall that the police force's social media team had struck a bargain with Mayer previously: If its official Twitter account attracted 10,000+ followers, they could adopt a kitteh, who would act as a therapy animal, mascot, and ambassador.
After the internet rallied together to meet the metric well ahead of schedule, it was simply a matter of finding a suitable candidate — a challenge assisted by the local humane society, who produced a bevy of kittens that were thoroughly vetted by the media, the adoring public, and the department's human resource representatives.
Alas, the process was not without a speed bump: The force's original selection, Officer Badges, had to step aside when medical tests revealed she had contracted feline leukemia (😿, but don't fret, she's fine, she just can't interact with other cats lest the condition spread).
Though he's been at work for less than a week now, Pawfficer Donut is said to be adjusting to the job as the head of the department's newly created Feline Unit.
But enough of the word babble, let's cut to the chase and get on with the pictures of Donut garbed in his new uni.
While we can't really condone sleeping on the job at taxpayer's expense, exceptions will be made from time to time, especially when the role is new and the responsibilities are multitude.
BRB, off to commit some crimes in Michigan so I can get arrested by this cutie.