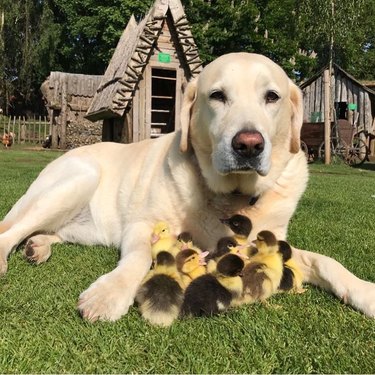 Father's Day is still a couple of weeks away but we already have a candidate for Dad of the Year.
Only this one has four legs and a heart as golden as his coat.
Meet Fred.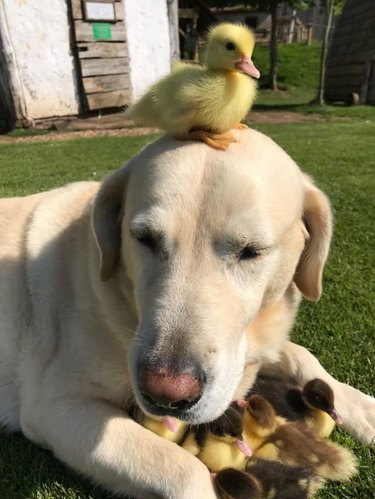 He's the resident 'castle dog' at Mountfitchet Castle in Essex, England, a 10-acre tourist attraction modeled after a medieval fort and village.
According to media reports, the site is home to a veritable menagerie of rescued critters that includes everything from goats and peacocks to deer and bunnies.
The newest additions to the castle's squad include nine ducklings, who employees say were seen waddling around aimlessly after their mom went missing. 😢
Without missing a beat, in stepped Fred, who, with his very gentle and patient disposition, is said to have taken the baby birds "under his paw."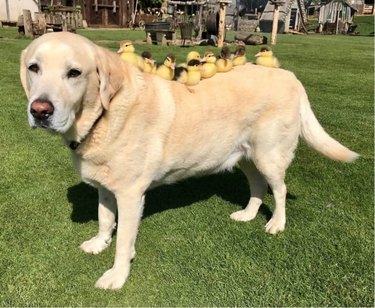 "He's got a lovely nature and has grown up around rescued animals," shared Jeremy Goldsmith — Fred's human and one of the attraction's owners — with the BBC.
The 10-year-old lab's babysitting duties, observers note, include cuddle puddling (seriously, click on it already!) and parading around the grounds with his adoptees closely in tow.
Apparently, Fred and his new crew even took a dip together in the castle moat. (Never change, Fred, never change.)
But Fred's love for other animals isn't just limited to ducks — in the past, he reportedly helped nurse an injured squirrel back to health.
"Oh my stars," gasped one man.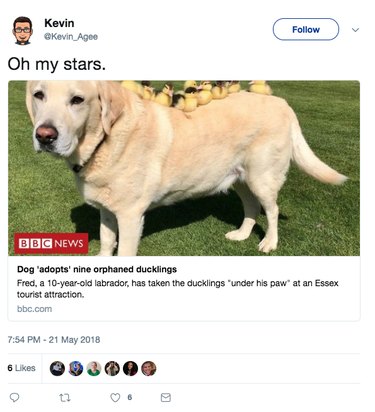 "And that's why Labradors kick ass," added another.

"This is a good story but i especially like the BBC's use of quotes to clarify that this dog did not in fact legally adopt the ducklings," quipped this woman, who's own take ended up viraling out itself. (Note to self: Tweets about anything other than dogs are hereby canceled.)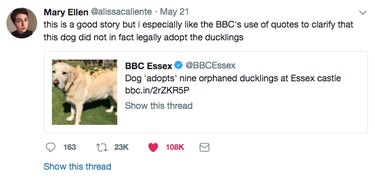 And now if anyone needs me, I'll be on my laptop booking a one-way plane ticket to Essex, England.